How curious: a journey Down the Rabbit Hole with the Swallow Tail Supperclub
Posted by Kevin Broome on Monday, November 28th, 2011
Tags for this Article: alice in wonderland, Chashma Heinze, down the rabbit hole, duck-confit, event, In The House Festival, Myriam Steinberg, robin kort, swallow tail supper club, underground restaurants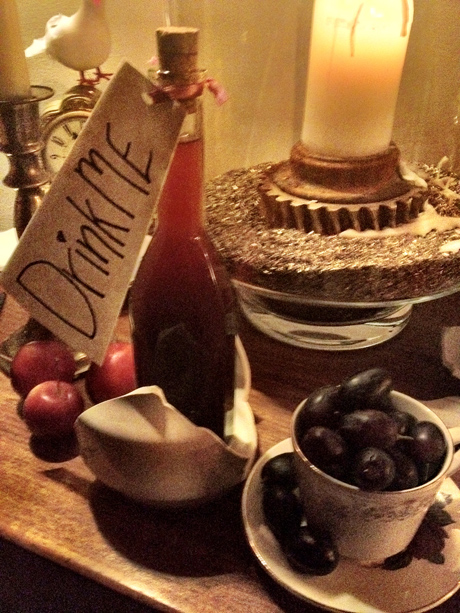 "remember, what the dormouse said
feed your head, feed your head"
—Jefferson Airplane
The city seemed to shrink away on the horizon as we wound up through the treed lane, hugging the shoreline of Deer Lake in Burnaby, through a district where it would seem, at some point in the 40's or 50's or 60's, the men and women had made a stoic attempt to carve their own sense of a summer retreat into the heart of suburbia, so that they might build modernist monuments and hide away from the disorder and ugliness of the world beyond. We parked in the stillness of the cool autumn night, a breeze tugging low almost ankle height, and then made our way down a small hill with the goal of positioning ourselves in the exact spot of the little orange man on the Google map that related to the coordinates we had been sent, along with our curious invitation to journey Down the Rabbit Hole.
I was in Calgary when I got the email. It landed in my inbox as I was smack dab in the middle of an expense account binge in the dining room at the Palliser Hotel. The winds outside that night were whipping snow through the streets at -14 degrees and I had resolved myself to a day indoors plugging away at pressing deadlines. So in those later hours, as I was wiping the remains of the oysters, both Rockefeller and Thermadore, from the corners of my mouth and digging deep into the formidable Albertan rib eye that bled across my plate, and washing it all down with an expansive tour of the Napa Region, my eye found itself immediately drawn to the message that had appeared on my iPhone's display:
Down the Rabbit Hole
A dining experience like no other
For food and wine lovers who want to add a little wonder to their dining experience, In The House and Swallow Tail have just the thing. Follow us down the Rabbit Hole to a secret underground space where amazing food and magical performances come together to give you an interactive and unforgettable evening. It's fine dining, theatre and surprising delight all rolled into one!
Now, a Wonderland-themed underground supper club is not something that comes your way all that often. But then again, from what I learned from my fellow guests at last night's event, The Swallow Tail Supperclub is not your average underground eating experience. Created 3 years ago by Chef Robin Kort, its first incarnation was run out of her house and gained momentum to a point where she was hosting up to 4 times a week out of her wine cellar.
"My boyfriend was getting testy" she admits. "So I moved it out of house and into the mean streets of Vancouver. We started looking for unique private spaces to host in and I began inviting guest chefs to keep the creative juices flowing."
Since then the Swallow Tail Supperclub has held court at various secret venues around the city always focusing on local, wild or foraged foods. This time around they were partnered with In The House Festival – responsible for the theatrics and acid-laced atmosphere, and Chef Chashma of Pastiche: Culinary Concepts, who ruled the kitchen for the evening and served as the brainchild for the experience overall.
Coordinates: +49° 14′ 4.20″, -122° 57′ 53.06″

This is where we landed. At this point in time, I am not permitted to divulge any further details on the location of the dinner. Only that just a little after 7pm a blonde haired young woman in a blue dress emerged from the woods, introduced herself as Alice and asked if we had seen a white rabbit wearing a waistcoat and carrying a pocketwatch.
How curious.
And the white rabbit did make an appearance, as a projection on the wall before scampering off and disappearing into the trees with the rest of us following close behind. After a short walk, we arrived at the house, a most remarkable house in which to leave the realities of whatever day each of us had just lived at its doorstep and allow ourselves to descend completely, if only for an evening, into a world flipped on its head and ruled by absurdity and a touch of madness.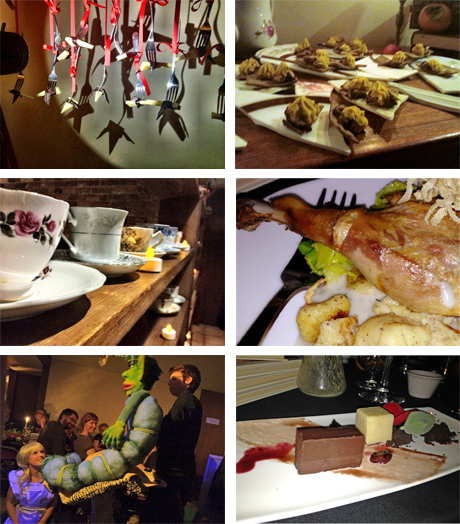 "But I don't want to go among mad people," Alice remarked.
"Oh, you can't help that," said the Cat: "we're all mad here. I'm mad. You're mad."
"How do you know I'm mad?" said Alice.
"You must be," said the Cat, "or you wouldn't have come here."
— Alice's Adventures in Wonderland, Chapter 6
The first encounter upon entering the front door was an installation of dinner forks suspended from the ceiling by red ribbons and casting long, angular shadows on the opposing wall. Further exploration revealed that this was in fact our first taste of the night, our amuse-bouche consisting of a piece of Marechal cheese wrapped in a concord grape fruit band which we happily freed from its suspended animation. From there, we moved along to an appetizer of a buckwheat crisp with harvest squash puree and a chantrelle mushroom duxelle, which presented itself as a battlefield tableau of a smashed porcelain tea set. All the while, a live psychedelic loop of vocal acrobatics tripped out through the space, mixing and mingling with the buzz of the guests as we sipped our welcome cocktails –a Hot Toddy consisting of Amontillado sherry, scotch whiskey, cayenne, lemon peel and tarragon served, of course, in tea cups– and watched as Alice grew ever taller and smaller before our eyes.
Finally, while still upstairs, a watercress veloutte was served in laboratory beakers with a fennel pollen breadstick and topped with a test tube of blue cheese before it was announced that dinner was served and we were ushered downstairs.
Curiouser and curiouser.
Just as with everything else, the next course was presented with the intention of pulling us out of our comfort zones and literally forcing us to get hands on with our food. The table was covered in various jars and containers stacked and spilled over piles of books and filled with the elements of our make-your-own-salad: U-Pick butter lettuce, curly carrots, pickled red & golden beets, roasted butternut squash, pea shoots, curried cauliflower, toasted pumpkin seeds & a light vinaigrette. This experience also served as the ice breaker at the table, as we passed the different elements between us and I've got to say, I could not have asked for a better group of people with whom to share my evening.
The main course was presented as Leg of Jabberwocky and consisted of a duck confit that melted upon the touch of a fork; a spectacular dish accompanied by a cranberry cinnamon sauce, hazelnut gnocchi, Jerusalem artichoke puree, brussels sprouts in butter, turnip tangle and chive flowers.
Between dishes, the performances continued. We were entertained by the black light smoke ring talents of the hookah smoking caterpillar and we were even treated to an appearance by her majesty, the Queen of Hearts.
The final plate of the night was a chocolate ganache and –a most appropriate– rose ganache decorated with a rose petal, which I came to learn is, in fact, edible, chocolate crumble and cherry compote. Do I need to say more here?
It was all unbelievably good. This is playful, experimental dining that challenges you to leave your…I want to say "adulthood"…at the door and plunge headlong down the rabbit hole in the most literal sense. My only concern that materialized towards the end of the evening was that my photos of the dinner were not even close to being worthy of what I ate (damn digital flash photography)…do I hear the Queen of Hearts screaming "Off with his head!"?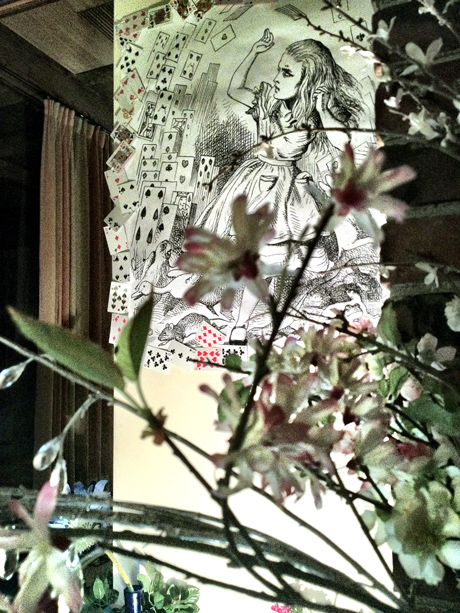 "I wonder if I've been changed in the night? Let me think. Was I the same when I got up this morning? I almost think I can remember feeling a little different. But if I'm not the same, the next question is 'Who in the world am I?'
— Alice's Adventures in Wonderland, Chapter 2
There was flamingo croquet being played on the front lawn as we said our goodbyes, donned our coats and once again ventured out into the night and back into the realities we had temporarily set aside in its darkness. As for where and how the Swallow Tail Supperclub might surface for its next iteration, there are a few hints of upcoming events on their website for Dine Out Vancouver. But whatever it might be, it is clear that Kort and her crew seem to thrive on the edge of mystery and experimentation.
"It's all about creating a one of a kind culinary experience for me, from wow spaces to experiencing the most creative local and international chefs," she says with a smile. "And I get bored easily, so who knows how it will change."
How curious, indeed.