A Taste of Delhi: Chole Bhature
Posted by Laura Siciliano-Rosen on Sunday, January 8th, 2012
Tags for this Article: Breakfast, chickpeas, chole bhature, curry, Delhi, dinner party, Indian food, recipe, Vegetarian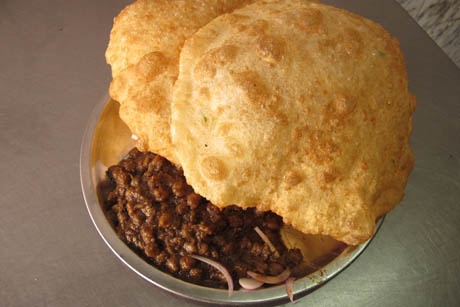 The vegetarian Punjabi dish chole bhature—curried chickpeas with fried bread—is one of the most popular breakfasts in North India. It's not tough to understand why: It's a spicy plate of legumes paired with puffy, crispy bread, a readymade vessel for mopping up that full-bodied richness. On any given morning in New Delhi, you'll find a crowd of rickshaw drivers, students, and shopkeepers elbowing their way to the counter at the local chole vendor. It's often eaten standing up, usually for a lack of seating but also because it's too damn delicious to not wolf down.
In Delhi last spring, doing research for our food-travel website Eat Your World, my husband and I first encountered the dish at our hotel's small buffet breakfast. It quickly became our favorite item, and we knew, of course, we had to try the real thing on the street. One morning, we took a rickshaw to a nearby local-blogger-approved vendor and joined the masses on a street corner for our own plate (and one for our rickshaw driver) of piping-hot chole bhature. The staff kindly gave us two pieces of bread, which they'd fried in a woklike vessel of hot oil.
The dark-colored chole was spicy and hearty, the bhature perfectly crispy on the outside and super soft inside, showing shreds of paneer (Indian white cheese). It's finger-licking messy to eat in the standing-room-only storefront, but so satisfying we immediately ordered another. Appetites thus whetted, we couldn't leave without trying another local specialty, rajma chawal, or soupy kidney beans and rice.
Fast-forward to a few weeks later in Udaipur, Rajasthan, where we stayed at the friendly Hotel Krishna Niwas. One of the owners, Sushma Khatri, runs cooking classes on pretty much anything you'd like to learn in Indian cuisine, so of course we asked to cook chole bhature (among other dishes). The version we made with Sushma tasted a bit different than the one we had in Delhi—lighter in color, the bhature much smaller and without paneer—but was delicious nonetheless.
My copy of Sushma's recipe is already tattered and covered in notes, as I've attempted to double and even triple the yield for a dinner party (alas, I have cooked only the chole at home, not the bhature). The first time I made it was for a bunch of friends one morning at a beach house this summer. They were initially skeptical about chickpeas—heavily spiced, no less—for breakfast, but one bite and they were hooked.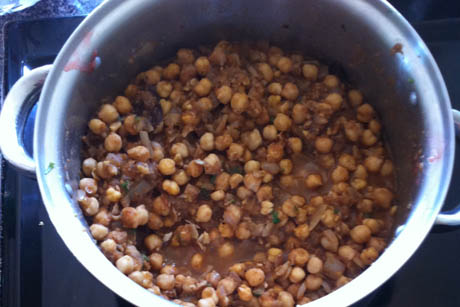 CHOLE BHATURE
(adapted from Sushma Khatri's cooking class at the Hotel Krishna Niwas, Udaipur, Rajasthan, India)
For the chole:
Note: This recipe serves about 4. I usually double it, as it makes for good leftovers. I've had good results using (rinsed) canned chickpeas as well.
1 ½ cups chickpeas, soaked over night (yields 4.5 cups cooked chickpeas), or about 3 cans
1 bag of black tea (preferably assam)
2 tsp ginger, chopped
2 tsp green chopped chile
2 tsp amchur powder (a.k.a. mango powder; can substitute lemon juice for similar tang)
1 tsp red chile powder
2 tsp roasted ground cumin seeds
1 tsp garam masala
1 ½ tsp salt
1 ½ tsp coriander powder
¼ cup vegetable oil
2 bay leaves
6 peppercorns
1 black cardamom
3 onions, chopped
4 tomatoes, peeled and pureed
Fresh cilantro, chopped
Cook the chickpeas with the tea bag—Sushma recommends using a pressure cooker and 3 cups of water, then boiling for 15 minutes or until soft. (If using canned chickpeas, I recommend skipping the tea bag altogether. Your chole will be lighter in color, but soaking canned legumes in water makes them too soggy.)
In a large pan, combine the cooked chickpeas with the ginger, chiles, and first six spices. Cook until any water in the pan (from the boiled chickpeas) dries up; if using canned, you'll have to add a little water or stock to the pan to moisten a bit.
In a second pan, heat the oil and add the bay leaves, peppercorns, cardamom, and chopped onion. Cook until golden-brown.
Add the pureed tomato to the onion mix. Heat, then add the contents of the pan to the chickpeas.
Combine, add some chopped fresh cilantro, and serve with bhature (or, lacking that, any Indian bread, even roti).
For the bhature:
Note: I have not tested this recipe at home; only in Sushma's class. Where needed, I've filled out some details using other recipes.
2 ½ cups of fine white flour
2 tsp sugar
1 tsp salt
½ cup curd/plain yogurt (preferably Indian style)
½ tsp baking powder
1 pinch baking soda
Vegetable oil for deep-frying
Mix all the ingredients together with some water, enough to make a very soft dough. Cover with cloth for at least three hours so it rises a bit (look for tiny bubbles on the surface).
Using a rolling pin, flatten out to the shape of a small chapati (or Mexican tortilla), then heat up the oil in a deep pan, like a wok. (To test if it's hot enough without a thermometer, pinch off a piece of dough and see if it rises to the surface and sizzles.)
Slide the bhature dough into the oil. Using a slotted spoon, flip it after a few seconds, once it starts to puff up a bit (you may have to push down on it a little). Your timing might take some trial and error—you want them to puff up and turn golden, but not too brown; they should stay soft inside.
Place hot bhature on a paper towel to absorb excess oil, but eat while warm. Serve with sliced raw onion, lemon, and, of course, chole.