Black Garlic?
Posted by Sarah Reinertsen on Thursday, May 17th, 2012
Tags for this Article: black garlic, garlic, guest, Risotto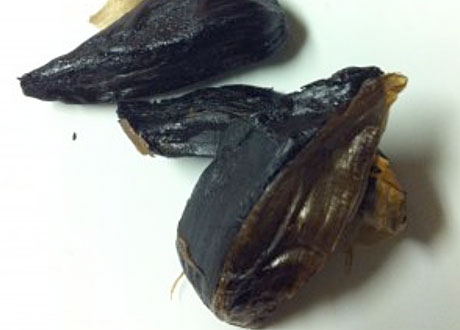 Meet Sarah Reinertsen our latest guest contributor.  The fortunate instance of a bus breakdown in the Himalayan foothills – after the bus driver tried unsuccessfully to fix the malfunction with a 2×4 and a hose – provided Sarah with the inspiration and opportunity needed to contemplate her future (that is to say: a pretty view and a long wait). The answer was instantly clear as the pages in the diary began to fill up: culinary school. A year of mature-aged backpacking and a year of mature-aged culinary study later, Sarah combines her love and knowledge of food with tech, travel, writing and the odd failed kitchen experiment. One day, it might even be clear where all of this is leading.
Twitter: @sarahreinertsen      Blog: http://sevenworldswillcollide.wordpress.com/
One ingredient we're starting to see on menus more and more frequently is black garlic. What is black garlic, exactly?
Black garlic is simply fermented white garlic – no other fancy gimmicks or ingredients (and no panic necessary for soy sauce-averse gluten free diets).  It's possible to make your own by keeping whole heads of garlic in a warm humid environment for 3 to 5 weeks, though this does come with it the environmentally questionable downside of leaving your oven on 140C / 280F the whole time. (Plus, "fermenting" and "look it up on the internet" aren't necessarily good food safety companions.)
With any trendy food comes the inevitable claims of Super Amazing Health Benefits (now with more Omega-3s!), so take from it what you will that it's meant to have double the amount of antioxidants of non-fermented garlic, and Oprah.com claims it's a new superfood. But let's get down to the good stuff – how does it taste and what do you do with it?
First off, you can eat it raw if you're so inclined. The flavour is incredibly mild and a touch sweet, almost like a firm textured roasted garlic but leaning towards a balsamic vinegar or tamarind tanginess. General guidance is to cook with it as you would use normal garlic – but beware, the inky colour does transfer so if you didn't want grey ricotta or eggs you may wish to hold off.
I tried it in two recipes:
– Sliced and mixed with maple, orange zest and pomegranate molasses served over roasted duck breast. The flavour didn't really stand out and I couldn't quite figure out what the hype is about (though it does look like the poor man's truffle – add a bit of truffle oil and fool your friends!)
– Sautéed with shallots in an asparagus risotto. You can see I wasn't kidding about the colour transfer thing – besides the garlic, the only ingredients in this dish are shallots, leeks, asparagus, arborio rice, white wine and clear vegetable stock.
Now I get the hype – and it's spot on! The flavour of black garlic was very rich and pronounced. In fact, I will say it added so much to the dish I didn't need nearly the level of salt and parmesan I usually sneak into risotto.
(Plus, it had the added benefit of covering up the slightly charred leeks that I meant to caramelize gently. *cough*)
Quality & Storage
It's not the most common product to find so you may not be able to pick and choose when it comes to quality. If you're going to make it yourself, it's crucial to start with the highest quality garlic because the fermentation process intensifies flavours.
I was advised to keep it in a paper bag if I would use it within a month, or in the fridge to keep for longer than that. So, how to find this magic ingredient? Though Korean in origin, it seems that there's one commercial source of black garlic manufacturing and distributing across North America: blackgarlic.com. In Vancouver you can find it at both South China Seas Trading Co and Whole Foods Market (Cambie).