The Pigs in the (Swabian) Hall
Posted by Sarah Reinertsen on Tuesday, October 16th, 2012
Tags for this Article: Cochon 555, farming, heritage breeds, Hydroponics, organic, Rustik Rooster, sustainable, Swabian Hall
(OK the title doesn't quite make sense but I'm still going with it.)
When I was back in Iowa for a few weeks this September, a story in the Des Moines Register about a local pig farmer doing some pretty out there things caught my attention. Since it was only 30 minutes from my parents' house, I decided to try to pay a visit – and in true Iowan hospitable form, Rustik Rooster Farm's Carl Blake immediately responded: "Sure, come on up."
It was about 5 years ago that Blake started breeding Iowa Swabian Hall pigs, thanks to a tireless drive to find the best tasting pork. He stumbled across a German breed developed around 1820, crossing the Chinese Meishan pig and Russian Wild Boar. A pig unlike any you've seen before, it maximizes flavour and fat in one productive little animal.
And Blake is the only farmer in North America with the breed, thanks to a fortuitously timed phone call to the Genetics Research Department at Iowa State University, who just happened to have had a few spare Meishans rooting around. The Iowan version of Swabian Hall was about to take off.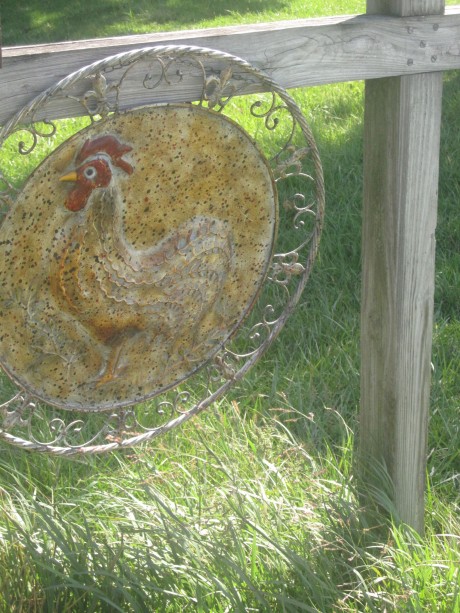 My trip to the farm ended up being only partly about the pigs. A former computer engineer who grew up on a pig farm, Blake has a bit of mad scientist in him. He's not only on a quest to breed the perfect pig, but also make farming them more efficient (both environmentally and economically) than industrial containment operations that litter the Iowa landscape.
"There's a bit of Green Acres in every Jetsons solution," he told me. Blake sees genetics as the key to solving many of the problems with industrial pig farming. Iowa Swabian Hall breeds not only yield a tasty product, their litters are naturally twice the size of your typical pig.
Another consideration is the vast amount of feed required to satiate the pigs' appetites. For this, the inventive Blake experimented with hydroponics. He can produce several tonnes of organic barley shoots – including the nutritious sprouted seed and root mass, often missed in conventional feed – year-round, in energy efficient chambers using organic compounds to prevent typical problems like mould and bacteria.
As we wandered the farm on the sunny September day, I was introduced to one of the boars used to breed Iowa Swabian Hall…who frankly scared the crap out of me. My eyes grew wide at Blake's apology: "I won't take you to meet Hercules in the other pasture…he'll take one sniff of your perfume and potentially cause some damage. He can jump 9 foot fences."
…I don't wear perfume, but given the tusks and aggressive snorting emanating from the smaller boar, I was completely OK with this.
But back to how it tastes – what exactly is the big (culinary) deal about these pigs? 
It wasn't until a trip to 2010's pork worship festival/contest Cochon 555 in San Francisco that the breed had started to earn cult status among the nation's top chefs. Blake was approached to contribute a pig, but there were two problems: how to get it there and how to package it up.
A perfect storm of fate allowed his pig to hitchhike with a friend's rabbits headed on a truck that way. But as for packaging, Blake searched for a way to communicate just how special he thought his pig to be. I still chuckle when I picture this: inspired by vintage wine packaging, the pig was packed in a coffin of satin lining and styrofoam, and boxed in a custom crate with hidden screws and hinges so only the intended recipient could open it.
To hear Blake tell it, Perbacco's Chef Staffan Terje had never seen anything like it. He contacted Blake after taking delivery of the crate: "What on earth is this? Are you kidding me?!"*
*Knowing chefs like I do, I suspect that this is not a direct quote – but I'll keep it clean for the younger readers.
With Chef Terje's deft handling the Iowa Swabian Hall took top honours at Cochon 555 that year, and a simple Iowan pig farm became an overnight culinary sensation.
I chatted with Chef Matt Steigerwald and Chef de Cuisine / Head of Charcuterie Andy Schumacher, of Iowa's outstanding Lincoln Cafe, who use Blake's pigs for a number of nose-to-tail preparations.
To them, the breed is a redder more flavourful meat with 12-14 pounds of back fat per pig: pure, rich, white fat that is coveted by charcuterie enthusiasts and pastry chefs alike. Unlike other heritage breeds, which are good for one or two charcuterie preparations and just OK for the rest, the entire Iowa Swabian Hall has an ideal ratio of fat to meat throughout the body. Not to mention the red meat and pure white fat make for a visually impressive salumi.
Over dinner at the Lincoln Cafe, my family and I sampled Blake's pork in the form of rillettes, sausage and an elegantly prepared pork belly. I'm not going to claim I could tell the difference between Iowa Swabian Hall and a Berkshire or Tamworth, but I have had a fair amount of pork belly in my day. It was abundantly clear that Steigerwald and Schumacher knew what they were doing in the kitchen.
And the result was some damn tasty pork.
You can find Iowa Swabian Hall pork on very select restaurant menus around the United States, and particularly in the midwest. And if you ever find yourself road-trippin' I-80 I unreservedly recommend a stop at Lincoln Cafe in Mt Vernon, Iowa.
Follow Carl Blake on Twitter or Facebook for updates, and watch for his upcoming appearance on Bizarre Foods with Andrew Zimmern this December.