The Truth About Sriracha
Posted by Pailin Chongchitnant on Friday, March 15th, 2013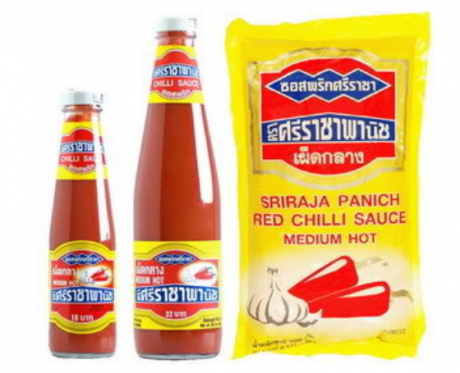 Every foodie seems to know what Sriracha is—the hot sauce with a cock on the bottle. It has become associated with Vietnamese restaurants, yet the current version was created in LA, and you can't find it in Vietnam. But do you know what the name "Sriracha" actually is? This seems to be a painful story to tell for most Thai people who have to tell it, I'm not the first one.
Sriracha is a name of a beach town in the province of Chonburi, a short road trip from Bangkok, Thailand. Many of you have been to Chonburi but didn't realize it—it's also the province of Pattaya, yes that infamous, greasy, red-light town. The original version of the hot sauce was created at the town of Sriracha over 60 years ago, and the sauce was  named "Sriracha Chilli Sauce" and it became extremely popular in Thailand. Thai people, till this day, when we say Sriracha we don't actually mean the cock sauce, we mean the original. We were very proud of it.
Then one day, in the 80's, Thai people living in America were aghast to discover the name of our chili sauce town written on a foreign bottle with no Thai written on it! (GASP!) Produced in California…what is going on!?!?! I'm projecting, of course, but that's how I felt when I came to Canada in 2003 and saw the cock sauce for the first time. I felt like I needed to sue someone. My cousin went to school in Sriracha, and he's still mad about it.
Here's my evidence. Most cities, towns and provinces in Thailand have a cute little rhyming slogan that highlights their local specialties. The slogan of Sriracha starts out with "Delicious chili sauce…." I was most saddened when I started seeing Sriracha written as an improper noun, "sriracha" uncapitalized.
As I said, I am not the first Thai to rant about this, the famous California-based Thai blogger, Pim of chezpim.com, has apparently had a lengthy twitter discussion about it. Along with my bitter cousin, who still can't get over it.
The picture above is the current packaging of the Sriracha sauce, notice the spelling is phonetically incorrect, just like all English signage in Thailand, proving that it's real Thai people who made it!
FYI, Thai people love to use Sriracha sauce on fried eggs, not just any fried egg, but a Thai-style fried egg with crispy edges, here's a little video I made on how to make it!