Communist Ales
Posted by Brett Macfarlane on Friday, March 29th, 2013
Tags for this Article: alcohol, beer, beverage, London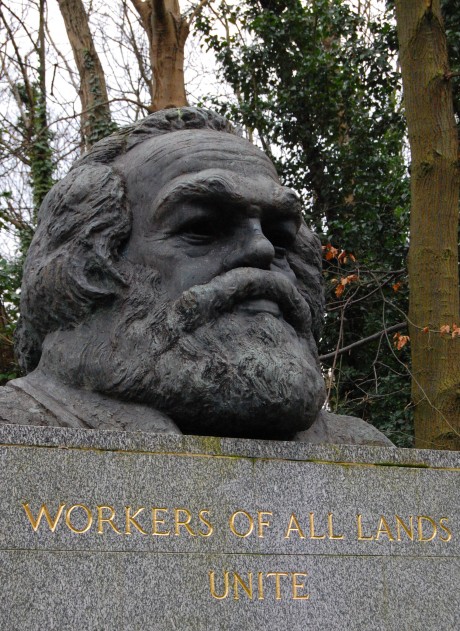 Beer has long lifted the burdens of the working class, and so it is fitting that Karl Marx who toiled to relieve the working class' burdens was oft to lift an ale himself .  However, back in my economic studies the link between ale and socialism was recklessly omitted.  Only when taking residence beside a great 19th century socialist haunt did this outrageous oversight come to my attention, and thus required inquiry, ale in hand.
It is very convenient that following expulsion from France, Marx settled with his family in leafy and gentile North London; a well-known shelter for thinkers and drinkers.  Its open parks encourage meandering walks and pontification while London's finest pubs encircle the green spaces to convene in and carouse around with other great minds.  While living here, Marx with Friedrich Engels wrote The Communist Manifesto.
Surely, drafting the ideology of Socialism and ultimately communism was hard work. Long solitary days writing in the reading rooms of the British Museum followed by late rowdy nights debating with sympathizers and entertaining benefactors.  Hard work necessitating a few of the restorative pints favoured by the very people he championed.
Whether the pubs were formally part of his research is unknown but we do know he was committed them – so much so in the late 1850's he rallied fellow socialists to drink a glass of beer at every pub between Oxford Street and Hampstead.  The night apparently ended an impressive 18 pubs later, along with a spot of police trouble. With a more modest ambition and disinterest in police agitation I set off to audit the modern state of ale in a few Marx related pubs.
First is the well-presented Queens, stoically set on a corner overlooking Primrose Hill. The pub is the obvious starting point as it was frequented by socialist sympathizers (and state spies) and just a 15 pace stumble across the street to Marx's friend, co-author, and benefactor Friedrich Engels' home of 24 years.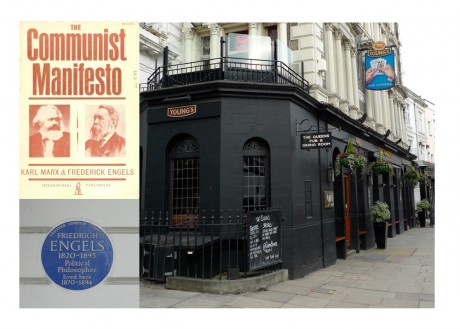 Today, despite a slight corporate "gastro-ification" with over designed wallpaper and post war attic memorabilia, The Queens retains its Victorian pub feel.  Beside the typical macro beers seven-hand pull cask taps pump forth Young's reliable bitter and a couple rotating companions like Bombardier or a seasonal.  Each unfussy pint holds a gorgeous deep golden colour, of balanced hops, and ambient cooled in the underground caverns, just as Marx would have enjoyed.
A mile Northeast to stubbornly gentrifying Kentish Town – the most recent outpost of the SOHO House Group's bourgeois hobo-chic Pizza East and Dirty Burger – was Marx's residence on Grafton Terrace. When not up for a stroll to Engels' local pub he could pop over to his own at the end of the street.  The Lord Southampton is a proper dingy boozer, probably then too. Beer soaked carpets and weathered regulars on wobbly stools against an ambiance of blinking gaming terminals.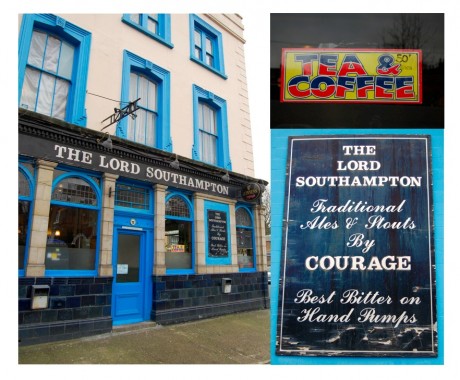 Musty hand pull taps spit out a beer that has never met a superior name: Courage.  A meek ale defying the might of its name that fails to cut though the chewable urinal sanitizer odors attacking from the men's room.  Round and soft in flavour, hops hidden beneath its suds and bland bitters; courage takes courage.
Uphill a short way is the venerable Southampton Arms.  A cherished shrine dedicated to Britain's finest ales and ciders.  The relatively young establishment is regularly named the finest alehouse in London, if not all of Britain.  Its brown wooden interior and drafty air feels of an indistinguishable era any time long before today.   It may well be just as a pub was back in Marx's day right down to the fine selection of meat snacks.  No wine for the fussy here.
In recent years there has been a great "real ale" renaissance in Britain.  Championed by CAMRA and small producers pumping out local casks throughout the isles.  These are not brash over-hopped and over-branded American style "craft beers" but simple humble ales of finesse and nuance by regional beer makers who pour from the Southampton's ten continually rotating taps.
Further uphill is the cinematically haunting Highgate Cemetery, home to a stoic headstone marking the man whose ideology once governed over one billion people.  Reportedly 11 of them attended his funeral; I presume they all drank ale.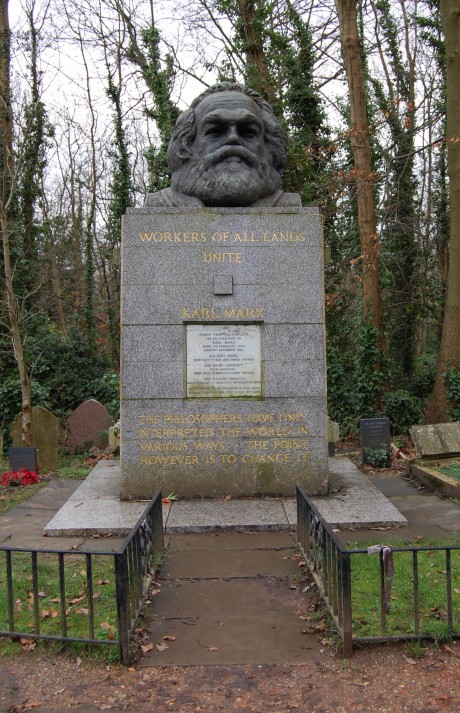 Mucking North through Hampstead Heath – where Marx regularly walked with his family, as have many writers and thinkers over the years like Keats, Byron, T. S. Eliot, Bram Stoker and George Michael – you arrive at one of London's oldest pubs: The Spaniard.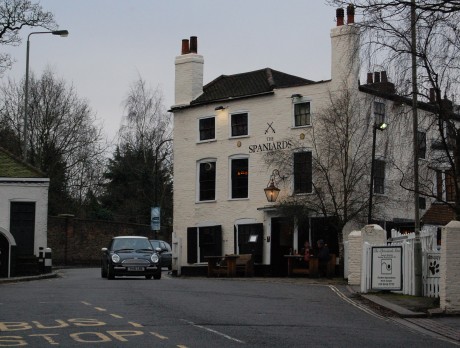 Crossing the road (they responsible paved it around the pub given its 1585 origin) wood fire smoke fills the crisp air.  A worn low-ceilinged, matte green, painted wood interior offers many nice nooks for a drink and a think.  Tragically limited in ale offerings as the gastro-ification of this pub's menu hasn't been slight.  The clientele walking in from their Range Rovers or the onsite dog wash with pure breed hounds aren't typically the working class ale sort.
However, as one of the first pubs to embrace the return of a North London brewery, Camden Town Brewery, they deserve kudos for keeping it local.   On tap are the crisp Camden Lager and their punchy American style IPA.  Fine contemporary craft beers to relieve the burdens of the contemporary worker.
While a lot has changed for the working class since Marx's day, beer remains refreshingly in hand.