Contest: We All Need Our Own Patch
Posted by Mark Busse on Friday, June 7th, 2013
Tags for this Article: gardening, herbs, home, Patch, planter, plants
UPDATE: According to Patch's former PR and communications partner, it seems the owners of Patch have shut down the business and vanished. This is unfortunate news for those of us who backed their Kickstarter campaign and ordered Patch planters of our own. I hope they get this sorted out and back up and running soon.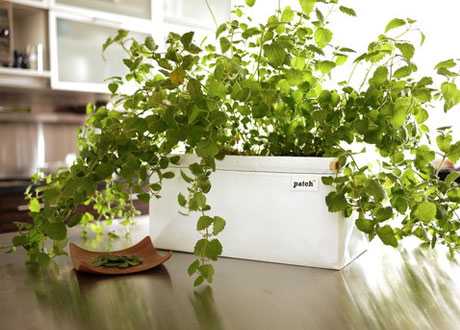 They say gardening is good therapy. And I agree.
I come from a small town in southern Manitoba, where I spent much of my youth on the farm. When we moved out west we lived in a suburb, but maintained a large patch of garden in our backyard. It was the 70s and many families grew and harvested their own food. While I'm sure at the time I whined about not wanting to work, I recall fondly planting, watering, weed-pulling, and harvesting herbs, vegetables, and fruit. It really was terrific family time, therapeutic time in the outdoors, and fond memories.
So what happened? Why is it so few of us living in cities have a personal relationship with our food? I'm sure many of you, like me, have purchased live herb plants and tried to diligently keep them watered and healthy, but life is busy, and it's hard to know just how much to water and when. Growing food at home can be intimidating when you don't have a natural green thumb—but it needn't be.
City living typically means buying food at a grocery store, but herbs and greens are terribly expensive and unless you use them immediately turn to wet mush in your fridge. It's frustrating. And if you live in a small apartment or condo, with limited space or no backyard, a windowsill or small balcony is your best/only option. Wouldn't it be great if there was a way to make growing small patches of green at home easy? There is!
Meet Patch, the self-watering planter for herbs and greens.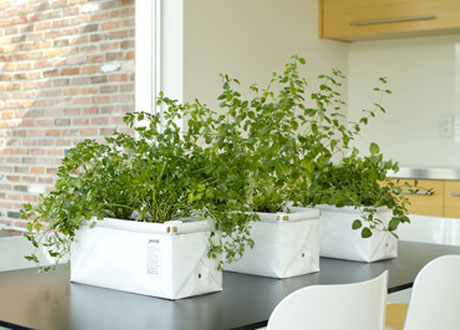 It's so easy and economical to grow herbs at home in a Patch planter that a friend recently called it the "Dummies guide to in-house plants." Once loaded with rich soil, you literally just have keep the reservoir full of water, give it lots of light, and it does the rest! Simple, compact, and good looking I might add (there are some ugly planters out there). No more gazing upon a windowsill full of guilt, instead of a lone rosemary stalk sticking out of soil that smelled a bit off, there is now a full head of living, sweet smelling sprigs. I've enjoyed using a Patch recently and love that I can maintain live plants of sage, basil, thyme, and rosemary to add to food at home. It's a sustainably, healthy food option and frankly just feels better knowing where my food comes from.
For those of you in Vancouver, you'll be proud to know that Patch is a home-grown project too! Local entrepreneur Kent Houston launched Patch in 2012 fuelled by the idea that anyone could grow food, anywhere. He's been hustling like crazy to make Patch a viable business ever since. On his motivation, Houston says, "The number one mistake people make, sometimes in life and also with plants, is that they give too little or too much. Under or over-watering a plant has a huge effect on its health, and subsequently your cooking. Keep it blooming my friends by making it easy."
Speaking of making Patch sustainable, the company is currently in the final days of a Kickstarter campaign to raise funds to expand. This seems like a great opportunity to order a Patch of your own before summer arrives and help a local business take off. Learn more about Patch at www.letspatch.com and contribute to their Kickstarter campaign at http://www.kickstarter.com/projects/letspatch/self-watering-patch-planter-for-herbs-and-greens-0.
GIVEAWAY: Leave a comment below by June 30th on what you will grow in your Patch and how you'll use it in your home cooking, and you'll be entered into a draw to win a FREE Patch planter for your kitchen.