I thought I knew olive oil. I was wrong.
Posted by Mark Busse on Tuesday, August 27th, 2013
Tags for this Article: GoVoluntouring, italy, Messors, olive oil, Puglia, recipe, Tonio Creanza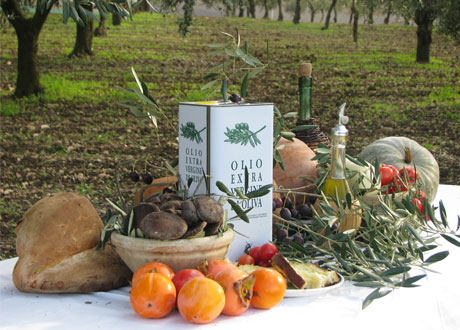 "The olive oil industry in North America makes me crazy." says Tonio Creanza in his thick Italian accent to our group sitting around a large rustic table in what could only be described as a cavernous dining hall in an 18th century farmhouse near Altamura, Italy. "People are being sold olive oil at ridiculous prices even though it's often poor quality oil that has been blended or worse, mixed with rapeseed or canola oil and coloured, without laws to accurately label what's inside. And don't get me started on organic."
Wait, what? Olive oil that isn't even 100% olive oil is being sold as extra virgin olive oil? Yup, apparently he's totally right. Eww.
I've been in the Puglia (Apulia in English) region of Southern Italy for a few days as a guest of GoVoluntouring.com, a website that connects travellers who long for more than touristy vacations with non-profit organizations run by locals in communities where volunteers are needed, and it has been a remarkable cultural and culinary adventure so far.
Our small group has been exploring the high heel on the "boot" of Italy with Creanza as our guide and his organization Messors introducing us directly to the people, culture, cuisine, archeology, and artistic treasures of this dry agricultural region through workshops, tours, and sojourns. In the past few days we've helped restore Byzantine frescos, made a delicious lunch and spent the afternoon with a shepherd and his flock, made fresh cheese, toured ancient cities and historical sites, and enjoyed some of the most memorable meals of my life.
But today we're learning about olive oil—a substance not viewed as an ingredient or condiment in Italy, but as a food itself. In fact we're drinking the golden elixir from fancy little glasses, sloshing it around our mouths and sucking in air as though at a fine wine tasting. And it's good. So good.
Tonio, a masterful storyteller, explains various facts and myths about olive oil, from the health benefits to the advantages of "cold pressing" and the supposed superiority of "first press" oils. "Olive oils are almost always single press," Creanza explains, "second press is basically used for lubricants and industrial uses, not eating."
He goes on to explain that oil made from old or poor quality olives can actually come with health risks and debunk marketing nonsense used to sell oil to unknowing North Americans, such as labelling it "pure", "light" or even "extra-light" which is actually an indication of lower quality oil that had been filtered and blended to reduce its odor and flavour, not calories as often misunderstood.
Creanza should know about olive oil—it's his last name on the bottle and he's the fourth generation to run the sun-drenched orchard. In fact, Tonio's family has been harvesting grapes, olives, almonds, and wheat in the Puglia area for generations. Tonio's elderly father (we got to meet most of his family in person) still works the fields as his son follows his passion for cultural, archeology and art conservation with Messors.
Creanza describes how his family's orchard is made of up three varieties of olives, Ogliarola (fruity), Silletti (sweet), and Coratina (peppery), skillfully blended together to give the oil its unique colour and flavour. Each of these varieties are typical of the region, Ogliarola a very old variety, while the Coratina and Silletti are younger 100 year old grafts—anything 100 years old in Italy is basically considered new.
You can see the pride on Creanza's face as he describes tending the orchards, combing the soil, gauging the weather, picking and pressing the olives. The whole process of obtaining the oil from the olive sounds like gruelling work and it takes seasons for a bottle of Famiglia Creanza Olive Oil to finally arrive at a dinner table.
During our day with the shepherd, we learned how to make a hot bread salad call Cialda Calda (or "Cialledda Call" in the local dialect), a traditional dish popular with shepherds and farmers from Altamura during the long periods of time when they live in masserias (farmhouses) far from home.
The "salad" is a simple mixture of slices of stale bread (by the way, there is no bread anywhere as good as Altamura bread—I'm not kidding), eggs, cherry tomatoes, onions, parsley, all lightly poached in salted water and finished with olive oil. That's literally the recipe. Boil salted water, cook the vegetables and lightly poached the eggs, assemble on a plate, add salt and pepper, and drizzle the flavour-infused water on top along with a generous amount of the oil. Trust me, it sounds simple, but it was amazing.
There was also a cold version called Cialda Fredda ("Cialledda Fredd") made with chunks of stale bread, red onion, carosello (a local melon similar to cucumber), tomatoes, celery and lemon. Basically just slice the veggies, dip the chunks of bread quickly in salted cold water, sprinkle oregano, salt and pepper on top, and drown the whole thing in extra virgin olive oil.
One of my favourite food moments happened as we made these dishes in a large pasture on the Murgian Plains surrounded by a flock of sheep. There came a moment as the prep was concluding that I asked the two women Fausta and Santina if we were done. "Hold on," one of them said, and proceeded to bend her knees and crouch low, standing with a handful of fresh oregano and thyme plucked from the very ground beneath our feet. "Now we're done." she said as she sprinkled the fresh herbs on our shepherd's lunch. It was in this moment I became keenly aware how much I love Southern Italy.
I thought I knew olive oil. In fact I've always sort been an olive oil snob, willing to pay extravagant prices for "the good stuff". But now that I'm aware that there is basically an olive oil scam afoot , I won't fall for it again. It's Famiglia Creanza Olive Oil for me. It tastes fresh, green, nutty, mildly sweet with a slightly peppery finish, and knowing how it's made is important to me. I'm hooked.
As the trip wound down I mentioned to Tonio that I hadn't seen butter used. Ever. "Why would we use butter?" He replied with a genuinely inquisitive look on his face. Point taken friend—and lesson learned.
And here's the good news for readers who live in the Vancouver area: Creanza is married to a Canadian painter and lives half the year here, importing his family's olive oil to sell locally. Yup, you can buy fresh batches of this liquid gold right here in Canada.
Famiglia Creanza Olive Oil is available in Vancouver, BC, at:
Le Marché St. George (4393 St. George at the corner of 28th)
Blue Owl Boutique (2308 W Broadway Ave)
Beaucoup Bakery – Cafe (2150 Fir St)
Benton Brothers Fine Cheeses (3432 Cambie St & 2104 West 41st Ave)
A final thought: I've written previously about how travel is a crucial part of one's education, so for me this type of travel was good for my soul (click here to view photos from my trip). It was a wonderful mix of vacation, learning and volunteering combined with some of the best meals (and cooking experiences) of my life. And it is surprisingly affordable. Seriously, for a jam-packed week of field trips, classes and lectures, guided tours, entrance fees to art exhibitions, museums and archeological sites, including accommodation and local transportation, the cost is only $1500 CAD (airfare extra).
If you're interested in attending either the art restoration or culinary workshops in Puglia with Messors, you can learn more at www.messors.com—but don't wait too long as they fill up fast!
Salute!