Sticky Toffee Pudding
Posted by Cara Payne on Friday, February 18th, 2011
Tags for this Article: dessert, guest, pie, pudding, sweet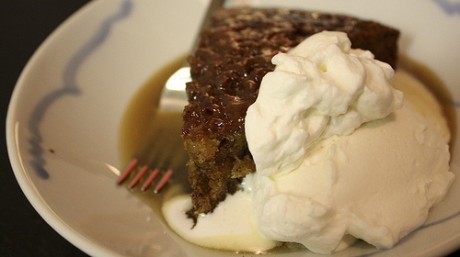 Our guest contributor today, Cara Payne,  shares her famous Sticky Toffee Pudding.
I love this recipe, as does everyone who eats it! If you're looking for a delicious, warm, light and fluffy, caramel and whipped cream soaked dessert that will endear even your worst enemies to you then this recipe is for you.
I first tried this recipe about a year ago and have made it several times since then; for friends, family and even for Social Bites. The first time I made it I kept feeling like I was doing something wrong since the batter is really runny. But when you try it, it's not wrong!!
Cake:
1 c + 1 Tbsp Flour
1 tsp Baking Powder
3/4 c Pitted Dates, finely chopped
1 1/4 c Boiling Water
1 tsp Baking Soda
1/4 c Unsalted Butter
3/4 cup White Sugar
1 lg Egg, beaten
1 tsp Vanilla
Caramel Sauce:
1/2 c Unsalted Butter
1/2 c Heavy Cream
1 c packed Golden Brown Sugar
Whipped Cream to top
Method:

Heat oven to 350.
Butter your baking dish, preferably a 9″ pan.  The pudding rises significantly as it bakes so make sure you've got room for it to rise! I've also used ramekins for this recipe, in which case butter 12 x 6 oz ramekins.
Sift Flour and baking powder together into large measuring cup.
Chop dates finely.  Place in bowl.  Add baking soda and boiling water to dates.  Let sit.
Beat butter and sugar together until fluffy – in a large bowl or mixer (the rest of the ingredients are going into this bowl so make it big!
Beat egg in small bowl, add vanilla.
Add egg/vanilla to butter/sugar.  Mix.  Add Flour mixture.
Fold in the date mix until blended. (this is what makes for the rather runny batter FYI)
Bake for 35 mins until set and ?rm on top (ramekins may take less time so check them early).
Make sauce while baking.  Melt butter, sugar and cream together, bring to boil, stirring constantly for about 8 mins on low-med heat.
Pour 1/2 of the caramel onto pudding once they've done baking and broil them until bubbly. Remove from oven, let cool a bit.
Serve warm with whipped cream and extra caramel and melt into how amazing this dessert tastes. It's definitely one of my faves and will hopefully become one of yours too.