Araxi & Whistler welcome one "Hell" of a chef!
Posted by Johnathon Vaughn on Sunday, November 8th, 2009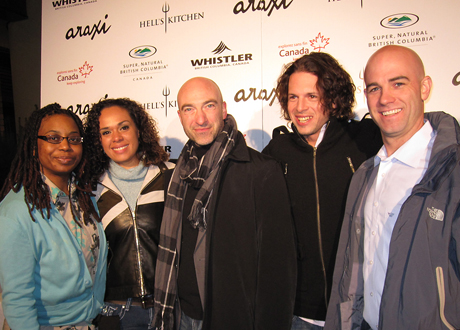 Hell's Kitchen celebrated their season finale at the acclaimed Araxi Restaurant + Bar in beautiful Whistler, British Columbia. As the grand prize restaurant of season 6 of Hell's Kitchen, Araxi put on a celebratory party, complete with Hollywood style searchlights and a very warm welcome to the winning chef Dave Levey.
The 4 finalists, affectionately known by their first names Tenille, Ariel, Kevin and Dave, were all present at the event to share in the televised revelation of the winner and to share thoughts, memories and experiences from the show with the many fans and mingling guests. Wonderful canapes, hors d'oeuvres, delicious desserts and a seemingly endless supply of generously poured drinks complimented a charged room of locals as TV screens projected the ups and downs of the final episode.
Araxi will be welcoming Dave back to the restaurant in early 2010 to join Executive Chef James Walt as one of the Head Chefs under James' tutelage and I for one will be looking forward to meeting Dave again as well as experiencing more of the luxurious local offerings of Araxi and the Whistler/Pemberton region!
For more info: