Dining Out for Life: March 25, 2010
Posted by Eagranie Yuh on Wednesday, March 10th, 2010
Tags for this Article: a loving spoonful, dining out for life, Friends for Life, fundraiser, vancouver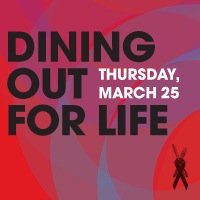 Most people are pretty excited when they find out that I write a chocolate blog. They think it's fun and frivolous and maybe just a little bit glamorous. Well, I'm still waiting for the glamour part, but I'll take the fun and frivolity.
Behind the fun and frivolity is a true belief that food is important, both as a source of nutrients and as a means of building culture and community. That's why I'm proud to support A Loving Spoonful's work. They're a Vancouver-based agency that provides free, nutritious meals to people in Vancouver (and its suburbs) who are living with HIV/AIDS. Their clients are men, women and children. Families. People who no longer have to choose between medication and food, and people who are too ill to buy and cook food. With A Loving Spoonful's services, people can concentrate on getting better. You wouldn't believe the client stories I've heard. They're simultaneously heartbreaking and inspiring.
Each year, A Loving Spoonful partners with Friends for Life to produce Dining Out for Life. On March 25, more than 200 restaurants from Vancouver to Whistler to the Fraser Valley will participate in this great event. Here's how you can help:
On March 25, dine out at one of the participating restaurants. 25% of your food bill will automatically go to A Loving Spoonful and Friends for Life.
When you're at the restaurant, ask your server for a donation envelope. Each envelope comes with a ballot that enters you into the grand prize draw valued at more than $1000.
Buy a bottle of wine from Sumac Ridge Estate Winery. For every bottle sold in B.C. in March, they'll donate $1 to Dining Out for Life.
Buy a bottle of Stella Artois on March 25. For every bottle sold that day, they'll donate $1 to Dining Out for Life.
New this year: businesses can sign up for the Dining Out for Life corporate challenge.
If you needed an excuse to order dessert, here you go. On March 25, I hope you'll join me in Dining Out for Life. Which restaurant will you go to?