Dining Out for Life: Thursday, March 24
Posted by Eagranie Yuh on Wednesday, March 2nd, 2011
Tags for this Article: a loving spoonful, dining out for life, Friends for Life, fundraiser, sumac ridge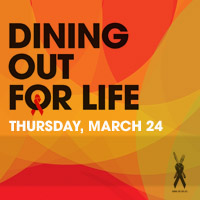 I don't know about you, but I have a tough time making decisions. I spend most of my day herding cats and correcting other people's grammar, and when dinnertime rolls around, the last thing I want to do is make a decision. Cook dinner or eat out? Wine? Which one?
Well, thanks to Dining Out for Life, on Thursday, March 24, it'll be a no-brainer.
Dining Out for Life (not to be confused with the very similarly named Dine Out Vancouver) is an annual fundraiser that benefits two local agencies who support people living with HIV/AIDS. One is A Loving Spoonful, an organization that I have volunteered with for the past three years, and the other is Friends for Life. A Loving Spoonful provides food for individuals and families who are living with HIV/AIDS, so that they don't have to choose between food and medication. And Friends for Life provides alternative therapies—for example yoga, massage therapy, acupuncture—for those living with terminal illnesses. Both create community for a group of people who are otherwise marginalized and isolated.

On March 24, it's easy to help. Dine at one of the participating restaurants (more than 230 of them!) and 25% of your food bill will go directly to A Loving Spoonful and Friends for Life. Even better, during the entire month of March, Sumac Ridge Estate Winery will donate $1 from each bottle of wine.
So I know what I'll be doing on Thursday, March 24: dining out at a participating restaurant, and drinking Sumac Ridge wine. Giving has never been easier.