Rabbit Stew
Posted by Mark Busse on Monday, September 26th, 2005
Tags for this Article: marinade, rabbit, recipe, saffron, stew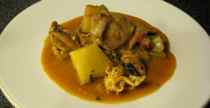 (Makes 4 to 6 servings)
2- 1-1/2 lb domestic rabbits (de-boned and cut into serving pieces)
Marinade:
1/4 cup olive oil
2-tbsp brandy
1 white onion (diced)
2 cloves garlic (chopped)
1-tsp fennel seed (crushed)
few strands of saffron
In a bowl combine olive oil, brandy, onion, garlic, fennel seed and saffron. Place rabbit pieces in a plastic bag and set in a deep bowl and pour marinade over rabbit and seal the bag. Marinate 2-3 hours at room temperature.
Stew:
1 chopped white onion
4 medium carrots
1/2 cup chopped celery
1/4 cup snipped parsley
3-5 cloves garlic crushed
1- 28 oz can tomatoes (drained)
1/2 cup dry white wine (or red wine if you prefer)
4 medium potatoes
Salt & ground pepper (to taste)
In a large saucepan, cook onion in 2 tbsp olive oil until translucent, add the three cloves of garlic. Add drained tomatoes; simmer uncovered for five minutes. Add rabbit pieces, marinade and salt. Simmer covered 15 minutes. Add potatoes, carrots, celery and parsley. Cover & cook over low for 30 – 45 minutes (the longer it simmers, the better – but the veggies and potatoes will get softer). [note: for a little more flavour and thickness, try lightly dredging the rabbit in flour, fry some bacon and brown the onions and rabbit in the bacon fat]
Liver Sauce:
4 oz baby beef liver
2 tbsp butter
2 medium jalapeno peppers (seeded & chopped)
1 clove garlic minced (peeled & sliced)
1/4 tsp salt (to taste)
1/3 cup extra virgin olive oil
Meanwhile, slice liver. In a small skillet cook liver slices in butter for 3-4 minutes until medium rare. Place liver in blender with I clove garlic, jalapeno peppers and olive oil. Puree with 1/2 cup liquid from the stew pot and salt to taste. Serve stew in bowls. Drizzle the liver sauce lightly (too much liver sauce can be overpowering).