Alessandro's Lasagna
Posted by Mark Busse on Wednesday, September 28th, 2005
Tags for this Article: italian, lasagna, Pasta, recipe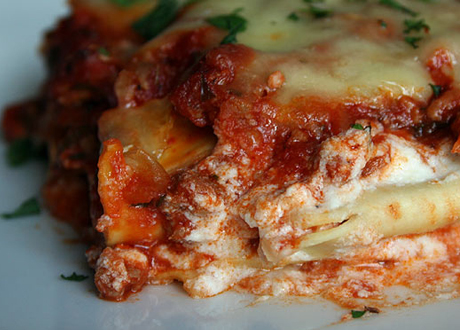 Ok, this is a classic….and this is how lasagne are made in Bologna (where they originally come from).
Ingredients (for 8):
600 g of lean ground beef
140 g of parmigiano
1 glass dry white wine
500 g of canned plum tomatoes
2 carrots
2 small onions
butter
oil
salt
pepper
Fresh lasagna sheets of pasta
1 kg. Besciamelle (as in the instructions I gave you earlier)
Here comes the ragù:
In a deep pan heat six spoons of olive oil and add the finely chopped carrot and the onions. Add the ground meat, simmer until it browns, then pour the wine and keep simmering until it evaporates. Add salt, join the tomatoes and let it cook for at least an hour. At the end, add some pepper.
Separately you would have prepared the besciamelle as in the recipe I gave you.
Bring to a boil a pot of water, and add just a few at a time the fresh pasta rectangles, until they are soft (not fully cooked), and take them out and lay them on damp paper towels (or better kitchen towels).
Repeat the process until they are all done.
For 8 people you will need 2 Pyrex casseroles. Shave a few butter scales and put them on the bottom of the casseroles, and add the first layer of pasta. Then add a layer of ragù and besciamelle, grate some parmigiano and a few shaved scales of butter, then add an other layer of pasta, and repeat the alternating process ending with the layer ragù and besciamelle.
Place in the preheated oven at 200°C for 1/2 to 40 minutes. The top layer should look golden brown.
Note: A good Sangiovese, or Chianti will make it a good dinner :)