The Best Chips Ever?
Posted by Ben Garfinkel on Friday, February 17th, 2006
Tags for this Article: chips, Kettle, potato, snack, unique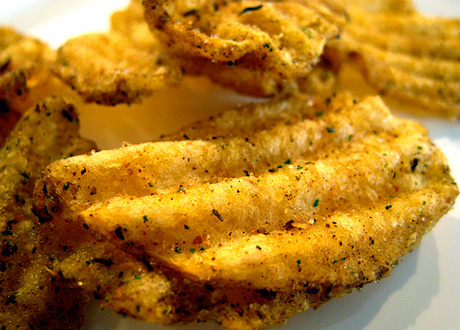 For the last while Kettle Chips have been breaking bold new ground with flavoured potato chips that go beyond the ubiquitous bbq, ketchup and sour cream and onion. Visit their website and you'll see what I mean. The other night I bought a bag of one of their latest, Spicy Thai. From the first chip I was addicted: sweet honey notes,ginger and other spices (and yes, they do have a nice little chili kick) combine to create the most sensational chip I can ever remember having. No kidding. I love these chips.

It seems that Kettle has been running contests for new flavours. Previously you would merely vote for the flavour that was most appealing, but their latest vote is accompanied by the ability to order a sample package containing bags of all the contenders. This round includes: Buffalo Blue Cheese, Dirty Martini, Tuscan Three Cheese, Spicy Mary and Creamy Caesar. Only one will get produced. Cast your vote now. I'm reserving my vote until I get a taste!