The best fry in Vancouver
Posted by Matt SamyciaWood on Monday, July 27th, 2009
Tags for this Article: best, Costco, england, fries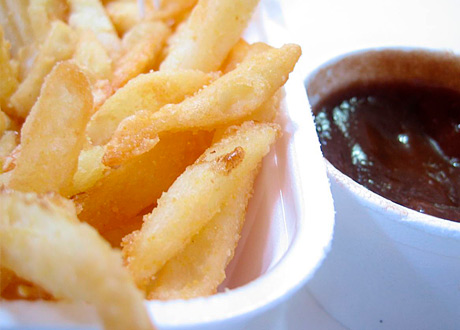 I was spoiled as a kid, having grown up in Yorkshire (England) I ate my fair amount of fish and chips (fried in lard for extra flavour). For those not in the know, the English 'chip' is like a fatter, more substantial American 'fry'. Not many people here in Canada sell 'chips' as I know them, instead they sell the slim, normally limp and rather pathetic Northern American 'fry' which is as pleasurable as a wet handshake or soft tappy tap hug. It wasn't until the other day that I tried a fry that I have to say was the best I have had in 10 years living in Canada.
Before I say where it was from I have to say I like good food. I have high expectations and enjoy a fancy restaurant. Maybe this is why the fries I had were so good because from where I got them I was not expecting them to be good at all. It is like going to see a movie that has been slated by reviewers, you are expecting a mediocre movie. Your expectations are set low often resulting in a surprisingly enjoyable movie.
The fries were from, wait for it … Costco. Yes, I admit it, I ate there. And they were amazing. They were crispy, fresh out of the oil, and not as limp as other fast food fries. Coupled with hot gravy, I was in fry heaven.
Where do you think the best fries in town are? Maybe we should have a fry off?