Writers writing about writers, writing about food.
Posted by Jer Thorp on Friday, January 19th, 2007
Tags for this Article: Bill Buford, Books, heat, literature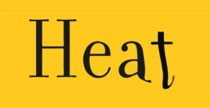 Confused yet?
In his recent article in the London Review of Books, Stephen Shapin gives us his thoughts on Bill Buford's rather lengthily titled Heat: An Amateur's Adventures as Kitchen Slave, Line Cook, Pasta-Maker and Apprentice to a Butcher in Tuscany. Buford, former fiction editor at The New Yorker, has spent the last few years doing things that amateur chefs like me only dream of. Taking orders from Mario Batali at New York's Babbo, apprenticing with Italian pasta masters, and learning to butcher a pig, Buford spares himself very little sweat and discomfort in his search for cooking in it's purest of forms. Shapin's review considers not only the book itself, but also the curious explosion in popularity of cooking in general. It's an excellent read, and has certainly convinced me to put Heat on my most-wanted list.