These Tacos Aren't Loco
Posted by Erin Kampf on Monday, January 22nd, 2007
Tags for this Article: bean, Commercial-Drive, mexican, refried, review, salsa, Taco Loco, tortilla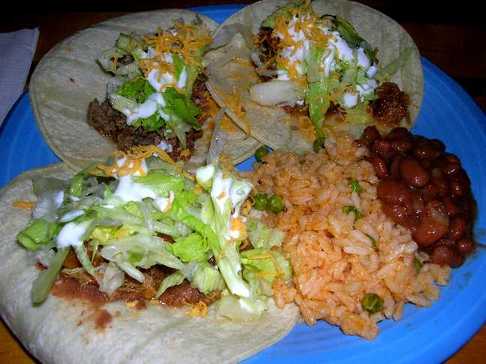 On my continuing quest for the best taco in Vancouver, I scored my first miss. A recent visit to Taco Loco (2651 Commercial Dr., Vancouver) proved to be a rather disappointing experience.

The restaurant is clean and oddly furnished with chairs that look like something from a four-year-old's playhouse. Nothing remarkable, but acceptable in this quest that has taken me to a number of holes in the wall. The most disconcerting thing about the place itself is the fact that it was freezing in there. I realize it was a cold night, but turn on the heat! Make me feel like I'm actually in Mexico!
We tried to order chicken soup to warm up, but unfortunately they were sold out. So we both settled for a taco platter that came with three tacos (your choice of meat), rice and beans. I should have known when the guy asked me if I wanted a soft or hard "tor-TILL-a" that there was going to be a problem…
The tacos each consisted of one small (soft) corn tortilla, topped with refried beans, meat, salsa, cheddar cheese, sour cream and lettuce. Not exactly authentic, but typical fare for gringo food, which we so often find in Vancouver. The chicken was actually fairly tender and had decent flavour. The beef, unfortunately, was ground, which is never my preference, and seemed a bit dry.
But it wasn't just that the food was lacking in authenticity. I can live with that. I even enjoy that sometimes. What really killed it for me was the refried beans. They added a weird, sweet mushiness to the taco. And the accompanying rice and beans that melded into a glutonous glob on my plate didn't do much for me either. The lack of salsas or extra toppings to accompany our meal didn't help to redeem it – there was no option to boost the mild flavours.
I have to say there are better taco places in town — even if you prefer yours gringo-style.