Giffard (on the) Rocks!
Posted by Ben Garfinkel on Saturday, March 10th, 2007
Tags for this Article: alibi room, Emile Giffard, french, liquor, Loire Valley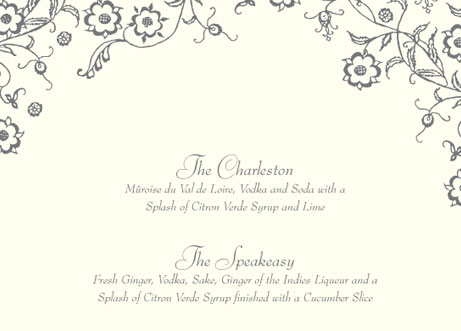 My first encounter with Giffard was at the Alibi Room in Vancouver. It was my birthday and I ordered a drink, the name of which now escapes me. It was a marvellous, refreshing and lively cocktail bursting with the floral notes of lychee that always remind me of gewürztraminer. Okay, so the drink is a lovely shade of pink and blooming with floral notes, it's still manly. Sort of. It did have ginger in it! The drink is equal parts vodka, sake, Lichi-Li and about half an amount of Ginger of the Indies. Lichi-Li? Ginger of the Indies? I'd never heard of those before.

They are products of a French company called Giffard. Here's their story:
It all began during the very hot summer of 1885…Emile Giffard was a dispensing pharmacist and neighbour of the "Grand Hotel" in Angers, in the Loire Valley. However, he was no mere chemist. Inventive, curious and gourmet, he undertook research on the digestive and refreshing properties of mint. He thereby invented a pure, clear and refined white mint liqueur which he tested with the Grand Hotel's customers, in order to relieve them from heat. Success came at once. Emile changed his pharmacy into a distillery and called his liqueur Menthe Pastille, referring to the mint sweets very famous at that time.

Four generations later, Giffard & Co, still in the hands of the Giffard family, produces, beside Menthe Pastille, "Crèmes de fruits", liqueurs, Guignolet (a cherry liqueur made in France), Fruits in brandy and syrups. Quality has been their watchword all this time.
Of course now I always make sure these two products are in my bar at the ready for the first sign of a dinner guest's indecision on an aperitif. And so it was that Giffard was on my mind when my fiancé (now wife) and I began to construct the menu and bar for my upcoming nuptials this past August. I had recently met the local distributor, Christa Frosch, at this year's EAT! Vancouver show and was planning to write something back then about these liquors. Since we were planning a loose theme around the elegance of 1920's Paris for the wedding, and because we were looking for something a little different for our guests to experience, I figured Giffard would be perfect.
With Christa's help we settled on three drinks that would suit the food, mood and warm late summer evening:

First up was a champagne cocktail infused with Mûroise du Val de Loire. Mûroise is a unique hybrid of blackberry and raspberry. A take on the classic Kir Royale, this was handed to guests as they made their way from the garden ceremony to the veranda of Hycroft, a gorgeous 1911 mansion set in Vancouver's Shaughnessy neighbourhood and an idyllic setting for any wedding.
Once guests had depleted this cocktail we had two others available at the bar in addition to the standard wine, beer and liquor. Both of these special drinks used Giffard's Citron Verde (lime) syrup and either Mûroise or Ginger of the Indies.
The first we called The Charleston which was a combination of Mûroise du Val de Loire, vodka and soda with a splash of Citron Verde Syrup and fresh lime. Keep in mind that it was late summer, warm and we wanted to have drinks that would not overpower the menu items being circulated.
The second drink we felt would be more appealing to men, but also offer a very refreshing, light alternative to the old standby, gin and tonic. How many times have you been at an event and, faced with a somewhat limited bar, just ordered at G&T out of laziness, or simplicity? I have, enough times to want to make it simple for people to break out of the habit. The Speakeasy was a mix of fresh ginger, vodka, sake, Ginger of the Indies Liqueur and a splash of Citron Verde Syrup finished with a Cucumber Slice. Kind of a Pimm's and Ginger meets G&T with a twist.

Now, from experience I can tell you that it's difficult to soak in the details at your own wedding, but from what I recall both these drinks were very popular. People were impressed and curious to try something new and to not have to think too hard to come up with their own cocktail.
Since the wedding which was in August last year, I've run into Christa many times at various tasting functions and she's always at the ready with yet another new product coming out of Giffard. I'd say she's working very hard to take Giffard from a specialty brand to a wider audience, though it's a slow process. Many more establishments are offering cocktails made with Giffard products, but I suspect consumers haven't really figured out what to do with it yet since it's not yet universally available at the BCLC. Slowly Giffard is making inroads and it's nice to see since I don't want to see my supply options drying up.
I guess I'm in love with the brand since I find it difficult to find fault with most of what Giffard has on offer. I doubt you'd be able to buy most of the huge assortment of products listed on the website, and surely some of it is obscure enough you'll never see it outside an inventive restaurant bar, or France, but that's the real beauty of these fine products. It takes a little commitment to keep them around and experiment with them to create cocktails, but it's worth it. Then again, the Giffard website offers up a myriad of recipes for every product. I do wish the recipes were better organized on the site so that they could be search by flavour as well as by product.
Recently I've added to my personal collection Giffard's Mangalore, described as having notes of cinnamon, cardamom and pepper, flavours that capture the "Indian coasts of Malabar", and the liquor that started it all, Menthe Pastille. I've experimented with both and found Mangalore to be a bit more challenging to mix, but so unique. I'm going to have to come up with something special for it next time I'm cooking Indian. As for the Menthe Pastille, I've served it iced, but it's a little sweet on it's own and frankly people either love or hate peppermint. Poured over chocolate gelato or sorbet this is excellent and I'm thinking about boosting my summer mojitos with it (mmmm, can't wait!).
Next time you're out on the town strike up a conversation with the bartender or peruse the cocktail menu and give some of these terrific liquors a try. You won't regret it, or ever go back. Yes, you'll slide into the deep end of the exotic, esoteric world of premium specialty liquors. Then look for it next time you're in your local liquor store so you can enjoy it at home…or your own wedding.