Chinese wedding banquets
Posted by Eagranie Yuh on Monday, January 12th, 2009
Tags for this Article: chicken, chinese, cookies, fish, lobster, wedding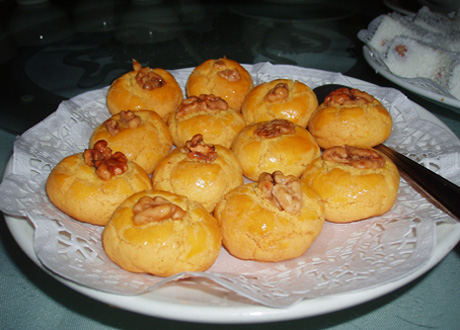 Last weekend, I went to a Chinese wedding banquet. If you've never been, you should try to wrangle yourself an invitation to eat the twelve-course meal. You read right, it's a twelve-course meal.
We had:
Appetizer platter with jellyfish, cured salmon, roast beef, and roasted suckling pig
Sea cucumber, chicken and scallops with mushrooms
Deep-fried shrimp meat on a crab claw
Shark's fin soup
Lobster with ginger and green onion
Sliced abalone with Chinese vegetable and bok choy
Crispy skin chicken
Steamed whole fish
Fried rice
E-fu noodles with abalone sauce
Almond cookies (see above) and coconut jelly with red bean
Red bean soup
Needless to say, everyone was very full by the end of it.
This is a pretty standard wedding banquet menu. There are certain dishes that show up without fail (the chicken, fish, rice, and noodles), while the rest of it varies depending on how much you want to spend. A lot of the food is symbolic. For example, the walnuts on top of the almond cookies are supposed to make you smart. This is because walnuts look like brains. Ergo, walnuts make you smart. Who knew?