Ajisai…Hai!
Posted by Andrea Busse on Monday, March 12th, 2007
Tags for this Article: ajisai, Japanese, review, sushi, vancouver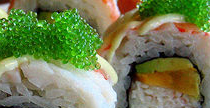 The best way to eat in a Japanese restaurant is to sidle right up to the bar so you can watch the magic. See if the sushi chefs make eye contact with you. Although, as I sit here in Ajisai, I believe the chefs think I'm weird because I'm actually just staring at them! But, I'm mesmerized by the way the super sharp knife is melting its way through the fresh fish and by the beautiful plates of sushi being created before my eyes.
I'd heard of Ajisai (2081 West 42nd Ave) from two sources (thanks Ellen and Pamela). They insisted that it was the best sushi they'd had in Vancouver. Turns out, it is really good – I'm back for my second time in 7 days! If you plan on going, I suggest reservations. The place is little, and gets packed shortly after 5pm (604.266.1428).
Last time we were here, Mark and I ordered straight off the "Chef Recommendation" tent card. A little scary considering there are no prices on it! But, we feasted on miso soup with clams. The clam flavour was soft and subtle. The hotaru ika (baby squid) was divine, and no crunchy eyeballs! We had the special unagi roll. Special is right; it was delicious! The hirame (fresh flounder) was served with some sort of fresh leaf. I don't know what it was, but it seemed like a cross between mint and basil. Very fresh tasting.
Then, we went on to the cooked food. The black cod…well, can you go wrong with BBQ black cod? A little mix up in the kitchen had us eating the BBQ yellow tail neck instead of the BBQ salmon neck, but we weren't complaining! And two people filled for $50. That wasn't scary at all. The food was great – I guess that's why I'm back!
Next time – Sea Bream Tail. What the heck is that? I'm ordering it so I can find out. As I sit here, plate after plate of cones, rolls, sushi, and sashimi are smoothly assembled in front of me. Can you blame me for staring?