Soft and luxurious
Posted by Erin Kampf on Friday, March 30th, 2007
Tags for this Article: chocolate, dessert, Mink, vancouver-cafe-chocolate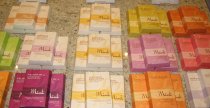 That's how I would describe the chocolate that just melted in my mouth. And given that it's from a new shop called Mink, the words seem rather fitting. Mink opened last week at 863 West Hastings (Vancouver), facing the courtyard between Hastings and Cordova, at the foot of Hornby.
The organic espresso dark chocolate ganache piece that I tried was simply amazing. Deep, rich and smooth, with just a hint of espresso. It was also as beautiful to look at as it was to savour. Of course, at $1.50 per piece, it should be.
But despite the price (the bars start at $4-something), who can resist the colourful and smartly packaged chocolate bars with names like Fountain of Youth, Ginger or Maryanne? and Navel Gazing?
The shop is still finishing up some renos, but the decor will be beautiful when completed. Rich and sumptuous, yet minimalist. Rather like their locally made chocolates. Looks like it will be a great place to stop for a treat or a coffee in the downtown core.