Curry in my chocolate
Posted by Ben Garfinkel on Wednesday, July 2nd, 2008
Tags for this Article: chocolate, dessert, single-origin, Theo, Zazubean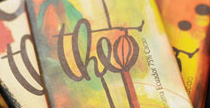 We've been eating Zazubean's chocolate lately here at the office since it's available at our local coffee shop. Bit pricey for the daily choco-fix, but better than mass-produced chocolate bars that are merely posing as chocolate. Made with high quality dark chocolate and with ingredients like cocoa nibs, mint, chili, etc. they are interesting, and supposedly better for you than just plain old chocolate–and hey, if they remove a little guilt, what the hell. Actually, sometimes they add guilt. Like when I'm eating a Lunatic bar which is supposedly helpful for easing the negative effects of menstruation, I think the bar shouldn't be wasted on a guy! Yet, they are tasty and I do feel refreshed after eating one!
Seems unlikely ingredients in chocolate bars has become somewhat of a trend. Hell, I'm not complaining, this is fun experimental chocoholicism at its finest.
Anyway, came across Theo Chocolate today via dani namate's blog. Not sure if it's available here in Canada, but what was intriguing was their Coconut Curry Milk chocolate. Now, I'm not really a huge fan of milk chocolate unless that's all that is left, but Coconut Curry Milk Chocolate, what's that about? I'm compelled to find out. This is where chocolate is heading it seems, as people experiment trying to come up with unlikely pairings of flavours, and compete for the most bizarre but delicious combo. Curious. Can't see myself becoming addicted to the flavour, I just want to try it. Definitly a novelty item, like 'Billy Bob' teeth. Or not? Maybe it's a magical combination, though I think generally I'd prefer to keep my curries north of dessert.
When I get my hands on some, I'll let you know what I think. Anyone tried this? The website lists only USA retailers.