Vegan French Toast. No Yolk!
Posted by Denise Boyle on Monday, April 9th, 2007
Tags for this Article: Breakfast, french-toast, recipe, vegan, Vegetarian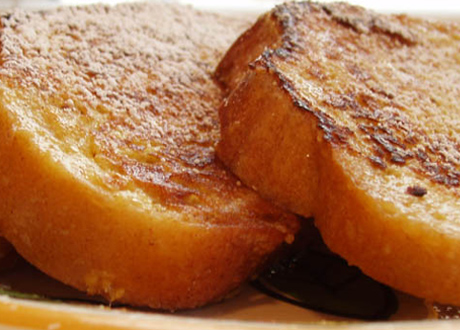 We all know that part of the fun of cooking is being creative – substituting ingredients in your favourite recipes, improving on the original, or in some cases creating a whole new dish in the process. However, sometimes you need to substitute out of sheer necessity. This past weekend, we woke up in dire need of a hearty breakfast (thanks for all the wine on Friday night Mark!) and settled on making our fabulous French toast. Yum. We had organic maple syrup and nice fluffy white bread in the cupboard, so all looked good until I got to the fridge and found that we didn't have any eggs…..woe-is-me, a Saturday morning tragedy.
Neither one of us felt like going to the store and we didn't want to disturb the neighbours so early, so I had to switch gears. Now, most people will agree that eggs, being an integral part of French toast, might be impossible to replace, well folks…………..it can be done! This is one of those cases where having lots of vegetarian & vegan cookbooks in the house can come in very handy.
The recipe that I used is based on one from the Rebar Cookbook, changed slightly to suit my own tastes a little better. The result was light and tasty French toast that cooked to a perfect golden brown – Edan didn't even realize that it was sans oeufs!
3/4 cup plain soy milk /regular milk
1 cup coconut milk
1 tsp vanilla
1/4 tsp freshly grated nutmeg
1/4 tsp cinnamon
1/4 tsp arrowroot powder or cornstarch
1/4 tsp salt
1 tsp nutritional yeast
8 thick slices bread
wisk all ingredients, except bread, in a bowl
preheat griddle or pan and brush with oil or butter (an important step so as to avoid the bread from sticking to the pan)
using your hands, lightly dip each side of a slice of bread into the batter and place in the hot pan
cook until golden brown, flip and cook the other side
serve immediately with your favourite toppings (I like butter, maple syrup & fresh mango)