Toasted Almond French Toast
Posted by Jer Thorp on Friday, January 2nd, 2009
Tags for this Article: almond, Breakfast, french-toast, recipe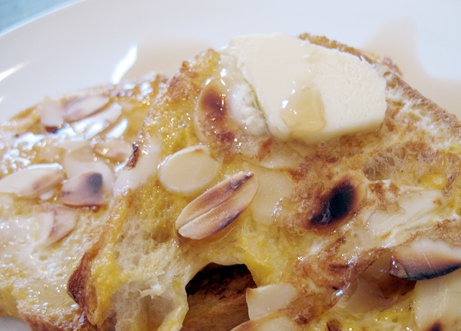 If toast is bettered bread, French toast is certainly another step in the evolutionary process – dipped in egg and pan-fried, this staple of Sunday brunches everywhere is about the best example of a perfectly simple recipe that you can get: bread, eggs, milk & butter. Delicious.
Can French Toast be improved? I think so. Next time you are cooking up a batch for brunch, try sprinkling come sliced almonds onto the batter-soaked bread before each slice goes into the pan. Cook the bread nuts-down first. Sprinkle some more almonds onto the top while the bread is still wet – this way you'll end up with crunchy toasted slices on both sides of the toast. Perfect! Make sure you're using medium heat, as anything higher will result in burnt almonds. Serve with apple compote and the best maple syrup you can find.
This simple change to the classic French Toast recipe adds a bit of texture and a delicious nutty flavour. Those of you who are true almond lovers may want to try adding a drop or two of almond extract to the batter. I have also tried this same idea with shredded coconut substituted for almonds, with good results – I imagine macadamia nuts would be delicious as well.