Overcome with Joie: the 2006 Release
Posted by Colin Coutts on Friday, April 20th, 2007
Tags for this Article: 2006, chardonnay, drink, joie, noble-blend, review, riesling, rose, Wine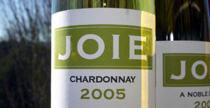 I've enjoyed Michael Dinn and Heidi Noble's Joie wines from their first vintage, and I was happy to have the opportunity to try the 2006 lineup last Saturday night, with the exception of the Muscat. For availability, click here, though you may have to act fast, as quantities are limited, and there is a devoted following. For the truly geeky, click on the wine names for the winery spec sheets. Thanks to Owen Knowlton, West Restaurant's Wine Director, for the pours!
Rosé 2006: Lovely pink core to thin watery rim. The nose has moderately intense, youthful aromas of strawberry bubblegum and ripe red-skinned pear. It comes across as just off-dry, with some residual sugar that helps the wine roll across the palate. It has medium alcohol, acidity and intensity, with flavours that echo the nose on the palate. This is very well made, refreshing rosé, to be well chilled and guzzled any time with glee, though I'm having a particular vision of a niçoise salad bright sunny day patio brunch right now.
Riesling 2006: The colour is water-white from core to rim and the nose offers up lovely aromas of peaches and violets. It's medium-dry with medium alcohol, medium plus acidity, and above-average intensity. There are expressive flavours of core and stone fruits through the medium to medium plus finish. This is good spätlese-style riesling, and Michael tells me it will only gain intensity and focus with some time in the bottle – I'll be very interested to see how it develops. Drink now, or hold for up to three years.
Chardonnay Un-oaked 2006: The chardonnay's colour is very pale lemon yellow with greenish tints, as you might expect when the wine has seen no oak. Its nose offers somewhat muted, youthful aromas of buttered corn, pear and banana at this point – I wonder if it will open up a bit and offer more intense aromatics once it's been in the bottle a little longer. The palate is dry, with medium acidity, medium to medium plus alcohol, and medium intensity and length with flavours of pear and honey on the somewhat abbreviated finish. This is good, eminently pleasant un-oaked chardonnay with abundant fruit to be drunk in the near term, though I can't help but think about how good an oaked version could be. What do you think, Michael? For food, I'm thinking pan-seared halibut with garlic sauteéed pea shoots and local morel mushrooms – they'll be in the market soon.
A Noble Blend 2006: The colour is clear as rain water, and the nose is quite intense – a mixed bouquet of peach blossom, lily of the valley and musky spice. The attack is off-dry with medium to medium plus acidity, medium alcohol and medium plus intensity. Peach blossom, pear and spice flavours abound on the medium finish. The Noble Blend, along with the Rosé, is my favourite of the new releases. Though the finish could be a tad longer for my taste, this wine offers real aromatic complexity and character. Nicely done.