Value Wines of the Week
Posted by Colin Coutts on Tuesday, May 8th, 2007
Tags for this Article: drink, hot-day-wine, lower-mainland, portugese-wine, summer-wine, value-wine, vinho-verde, Wine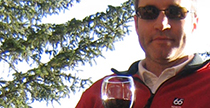 I've been away from posting on wines for a while now. Sorry. It's the rain – very depressing and blog entry-suppressing. But today, I am inspired! This morning was so beautiful, and as I was walking to an appointment with the temperature creeping in to the acceptable range – without a rain cloud in sight – I started thinking about value wines I've tried lately that I look forward to drinking as the temperature warms up and patios fill up. Here's a couple from Portugal that demonstrate two different styles from the same region, Vinho Verde:
Sogrape "Gazela" , Vinho Verde, Portugal, non-vintage ($10.16): Bright and clear very pale lemon colour with green flashes and signs of pétillance. It has fresh, clean, youthful grapey aromas with grapefruit and a dash of green herbs on the nose. Body is light, with palate-stinging acidity and lots of spritzy little bubbles to refresh your body and spirit on a hot day. This wine represents very good value, and above average quality and complexity for mass produced Vinho Verde. Click here for availability in the lower mainland.
Quinta do Ameal "Loureiro" Vinho Verde, Portugal, 2005 ($21.90) Is there such a thing as serious Vinho Verde? Yes there is, my friends. Pedro Araujo's family once owned the port house Ramos Pinto, but sold it in the late 1980's and Pedro bought a 35ha single estate in the Lima Valley. Clearly there is experience behind this wine. It has quite intense, lovely aromas of orange blossom, ripe pear and minerals with some leesy undertones. The acidity is lively, but not harsh, and moderately intense flavours of pear, grass and minerals linger on the medium finish. This is good wine, and very good wine for Vinho Verde, with nice youthful fruit and real character. Normally you'd expect wines from the Alvarinho grape to offer the most complexity from this region, but this Loureiro is punching far above its weight. It reminds me of quality Muscadet with an extra aromatic twist, and it would be brilliant with some Kusshi or small Fanny Bay oysters on the half shell. Importer: The Seacove Group. The wine is a specialty listing, so it's available at BCLDB Specialty Stores like 39th and Cambie, Thurlow and Alberni or Park Royal. Currently out of stock, but there's more on the way from Portugal, so ask at the stores for availability!