Hopia Ube Filipino Treat: Hope-ya try it
Posted by Stephanie Co & Todd Smith on Friday, January 23rd, 2009
Tags for this Article: dessert, filipino, hopia, pastry, snack, ube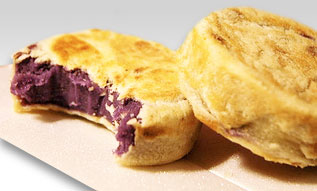 At the very mention of a certain Tagalog word, I forget the deep fried bananas, sweet sticky rice, cassava, and mouthwatering mangoes; that word is Ube. Ube is a close cousin to Taro and for all of the other Laowai out there, it's basically a purple yam (which on its own is pretty cool). The thing that makes ube so delicious is its versatility; it can be served icy cold or piping hot. I digress, this isn't just an intro to ube—although it is the spark of many future ube-related posts. Steph was gracious enough to show me around Manila last year and it wasn't until then that I discovered a famous Chinese-Filipino delicacy called "Hopia Ube."
The content of hopia ube is actually quite simple; it consists of a sweet ube puree enveloped in a thin, flakey, pie crust-like shell. If you're familiar with Chinese-Filipino cuisine you may have come across a few variations of it before; there is hopia mungo (mung bean), hopia baboy (winter melon), and a completely different "fluffy" cake-like variation called hopia hapon (bean filled, "hapon" means "Japanese" in Tagalog). Again, it's simple, but therein lies the secret. Hopia ube is irresistible because of its raw pairing.
There are essentially two ingredients and as a result, your palate is left with two very distinct tastes. The ube process involves skinning and softening the raw plant much like you would if making mashed potatoes, but to revisit the "sweetening" I mentioned earlier, sugar is also added. A finer ground ube paste will taste much different than a chunky batch, it is a dish contingent on texture and—depending on personal preference—one may trigger salivation while the other may just seem awkward. The Hopia itself is a simple flour based dough. In preparation it is rolled flat and wrapped thinly around a small portion of the ube paste. It's then baked to a slightly firmer consistency. That's it.
Finding the perfect hopia ube is a hit and miss process; however, when you find the right one it will be worth the hard work. The last time I enjoyed it, it was flown in overnight from Manila and I didn't share a single bite.
Does anyone know of a market/kitchen/importer in the lower mainland that carries a "GOOD" hopia ube?