Cheese, wine and nougat
Posted by Ben Garfinkel on Wednesday, May 16th, 2007
Tags for this Article: bastille-market, calissons_d_aix, Desserts, nougat, paris, Travel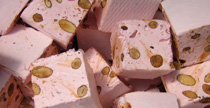 Well, here we are in the land of cheese and wine and what do I chose to write about? Nougat. Yes, the other day we hit the Bastille Market and lo and behold the first stall we come upon is filled with every type of French nougat one can imagine. I have a healthy (or is that unhealthy?) sweet tooth and a penchant for nougat so I was in absolute heaven.
The pink one depicted above was strawberry, plus we tried pistachio, burnt almond, natural and a  regional delicacy called calissons d'Aix made with almond paste. Funny, in the markets there is much repetition from seafood to meat to vegetable, etc, yet there was only one nougat vendor in the entire market – and this is a market that stretches for blocks! And the only market I've seen nougat in so far. Lucky me.
I haven't had an internet connection for the first week, or much time between meals and exploring, so this will be the first of several posts over the next week while I'm accumulating photos and eating my way across the country.
A bientot!