Seasons of My Heart
Posted by Laura Milligan on Thursday, January 20th, 2011
Tags for this Article: chocolate, cooking class, mexican, mezcal, mole, Oaxaca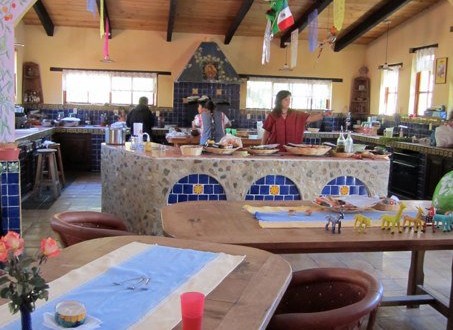 On a recent trip to Mexico we spent 10 days exploring the artisan culture and diverse traditional foodstuffs of Oaxaca. A must-do when visiting the land of seven moles is attending a cooking class. Author Susana Trilling runs one of the most popular Oaxacan cooking schools, Seasons of my Heart. For a mere $75 USD we spent an entire day with Susana, beginning with our driver dropping us off at a weekly market in Etla. Susana led us through the market to all of her favourite vendors, local women dressed in their traditional village patterns sharing their expertise and wares. From marinated chapulines (grasshoppers) to sweet tamales, we filled our stomachs with native delights. Then we were escorted to a special table for lunch! Opening stomach #2 we munched on enfrijoladas, Oaxacan hot chocolate and sweet bread.
Laden with treats collected from the market we rode through the countryside until we stumbled upon Susana's hidden oasis. After introductions to her wonderful staff, we poured ourselves jamaica agua fresca and cafe de olla before setting to work. My husband and I volunteered to tackle the multi-part appetizer: garnachas with charred salsa and pickled cabbage. Our assistant Norma, the local masa dough expert, silently assured us along the way with approving nods and school-girl giggles when we kept exclaiming what a laborious job we chose. Although to be fair there were two students tackling mole negro from scratch.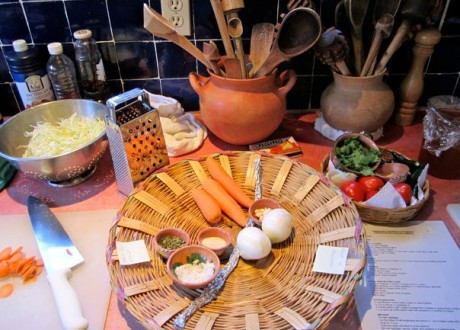 After preparing our salsa de chilito, apple cider pickled cabbage and fried ground sirloin, we set to work on making a basic masa dough. We made dozens after dozens of silver dollar sized dough patties that we cooked by hand on an outdoor comal (we also charred our jalapeños and tomatoes on the comal for our salsa). The trickiest part was when Norma informed us that each garnacha needed to be split in two and carefully scraped hollow without tearing our labour of love. Help! We called the team in and grabbed a beer for moral support. After all the scraping, my husband and I took turns frying each little masa shell while dodging spitting oil. To assemble we piled the beef, picked vegetables and salsa on each garnacha, topping with a crumble of queso fresco and drizzle of crema.
They were extremely addictive, and yet we had to find room for all the other delights produced by our fellow chefs: a beautiful salad of guava, avocado and jicama; mole negro with roasted chicken and mexican rice; and a pumpkin bread pudding complete with orange mezcal sauce. We went to sleep thinking we would never eat again. But we were in Oaxaca, a land of endless culinary traditions and staples to be tested. Whenever I thought I couldn't eat another bite of Mexican food, I would look over and see my husband sampling another hunk of fresh string cheese or Mayordomo chocolate and resign that the stomach never sleeps in the land of seven moles.