Taco Quest: Vallarta's
Posted by Erin Kampf on Thursday, June 14th, 2007
Tags for this Article: mexican-food, review, taco, vallartas, vancouver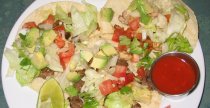 I had read that Vallarta's (2891 East Broadway @ Renfrew, Vancouver) was quite authentic, so I was surprised to be handed a menu that looked rather on the gringo side of Mexican. Ground beef tacos, combination meals, etc. I was puzzled, even more so because the owners/servers were clearly the real deal. Had they sold out to bland Canadian tastes?
But then I looked up at the lighted menu above the counter and spied "carne asada" and figured we might do alright afterall. I ordered three tacos: one carne asada, one pork and one chicken. They came topped with slightly less than authentic toppings (avocado, lettuce and tomato, in addition to the onions and cilantro), but the veggies were very fresh and, really, how can you have too much avocado in life?
The carne was a bit chewy, but the pork and chicken were tender, and appeared to be grilled. Lots of flavour and decent spice. They were served with a side of picante sauce, but you really didn't need to add much. The fillings were dished up on single flour tortillas, which caused quite the mess on my plate when the tortillas gave way. The tortillas really should be doubled-up, and I generally prefer the corn variety with my tacos.
All-in-all, a decent taco experience. Definitely worth the effort if you're in the neighbourhood. Just be sure to order off the menu on the wall above the counter — not the printed menu handed to you.