I scream for…
Posted by Ben Garfinkel on Wednesday, July 25th, 2007
Tags for this Article: dessert, gelato, grom, italian_company, italy, old_fashioned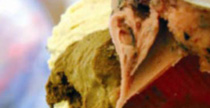 …Ice cream! Gelato actually. As someone who owns and fairly regularly uses his ice cream maker, I've got a great appreciation for what goes into a quality ice cream or gelato. This is both a good and a bad thing. I know that basically it's all eggs, cream and sugar. Lots of all three, plus whatever other wholesome fruity or chocolatey goodness you throw in. So, it's good because you can control what's not in it, like chemicals and preservatives. Bad because I know how much fat and cholesterol there is. Yet, that surely won't stop me from making or eating it, ever.
Fresh ingredients in gelato isn't anything new, but not too many companies make it the cornerstone of their business philosophy. Enter Grom, an Italian company making waves with an old fashioned approach to gelato production, seasonal flavours. They only produce fruit flavours using seasonally fresh ingredients. If melons are only available for a couple of months a year, then that's the only time you'll see melon gelato on their list. Not only that, but they source everything regionally. For instance, Sfusato lemon of Amalfi, the Tonda Gentile hazelnut of the Langhe, the Leonforte peach, the pistachios from Bronte, the Ribera strawberry and so on. This is slow food you'll want to enjoy fast!
So far it's only available in Italy and in New York. Anyone tried this?