Posh Sukiyaki = Japanese Hot Pot
Posted by Stephanie Co & Todd Smith on Wednesday, August 15th, 2007
Tags for this Article: hot pot, Japanese, Posh, restaurant, review, Richmond, sukiyaki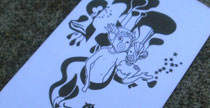 A few nights back, I had the pleasure of being treated to dinner at a new place called "Posh." I'll admit, I had no idea what to expect, Steph walked me through glass doors in what is simply explained as a strip mall (Continental Plaza), off Sexsmith road in Richmond. It was dimly lit. It was packed. It was conservatively designed with simple tables, comfy chairs, and dark slotted wood paneling that started at the floor and stopped only to house bottles of Asahi before reaching the exposed ceiling. I was overcome with a sweet aroma. I saw the flicker of flames beneath steaming pots. There were a few seats up at the bar by the kitchen. Two please. I pulled out our chairs; we took off our jackets.

We started with a skewer, Garlic shoots wrapped with pork belly. I can't say more than that they were absolutely delicious, they came upon high recommendation by our overly enthusiastic waiter. He was right. The theme of Posh revolves around their "All you can eat" dishes, in lunch ($9.88) and dinner ($13.88) features. Growing up in Edmonton forced me to have hesitation when encountering those four words; I've had a few bad run-ins, but once again Vancouver has proved me wrong. All things considered though, "All you can eat" wasn't advertised in bright neon out front of this place.
Our drinks arrived shortly after our skewers, Steph chose the Passion Calpis ($3.95), I went with the Peach Obsession ($4.88), Steph's was great; mine was tasty, but chunky. Our position at the bar prevailed once again; we received fast service, elaborate explanations, and cute Japanese accents. A flick of a switch got our grill going, it started with a mix of water and Posh's Sukiyaki sauce, heaping plates of sliced pork shoulder and premium Alberta beef arrived, we threw them in. We added tofu, udon, and tons of veggies; our stomachs thanked us, it was amazing. We only ordered once, it was extremely filling, the Posh staff went out of there way to make sure we had everything, we'll definitely be back.
Find them at 1123-3779 Sexsmith Road. Richmond, BC ; (604) 303-7674, http://www.303-posh.com/