F-Off little grey squirrel
Posted by Ben Garfinkel on Tuesday, September 4th, 2007
Tags for this Article: F-Word, Gordon Ramsay, Hell's Kitchen, television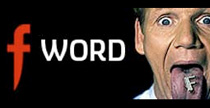 Those of you familiar with Industrial Brand know about our slightly unnatural fondness for small rodents. In fact, we've even featured the preparation of, and recipe for, squirrel. Thus, imagine our delight when we discovered this post on United Nathan's blog about The F-Word, Gordon Ramsay's show that pre-dates Hell's Kitchen.
Make sure you watch the video!
As for the show The F-Word, I haven't seen it yet, but hear it's very good, in many ways better than Hell's Kitchen of which I'm not overly fond. I've got a few episodes on DVD waiting for some time to consume so I'll report back soon. In the meantime, anyone know a good butcher stocking grey squirrel? Maybe it's time for a little huntin'?