From scrapbook to cookbook
Posted by Ben Garfinkel on Wednesday, November 14th, 2007
Tags for this Article: blurb, bon_appetit, book, cookbook, epicurious, gourmet_magazine, TasteBook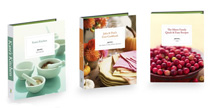 Last holiday season my wife received a wonderful and very personal gift from her mother; a binder filled with all the recipes she enjoyed from her childhood right up to the present. It was all neatly typed, laid out and presented in a very organized system that must have taken her a tremendous amount of time.
I have one of these too, but it's really just a collection of recipes shoved back into the binder we created some time ago. Scraps of paper torn from whatever newspaper or publication, recipe cards, photocopies–it's all in there, somewhere.
Enter TasteBook.com.
While certainly not the first service offering custom bound books to emerge on the scene, unlike Apple whose books are geared to users of iPhoto, and Blurb which offers a more general approach with many options, TasteBook is geared solely to the creation of cookbooks. In fact, the brilliance here is that you can also supplement your own recipes with any of the over 25,000 on epicurious.com, Bon Appetit and Gourmet Magazine. I'm sure stuffed into my recipe binder are many recipes culled from the likes of these sources! Best of all, it's only $34.95 for 100 recipes. No wait, better, is that instead of hard binding the sheets, they've got a nice coil-bound binder so you can easily remove a recipe to use. Only have 30 recipes? That's cool too. You can create the balance of the 70 recipes later and have them printed and mailed to you as go.
I'm in!