Making pizza with my daughter
Posted by Matt SamyciaWood on Monday, July 27th, 2009
Tags for this Article: cooking with children, pizza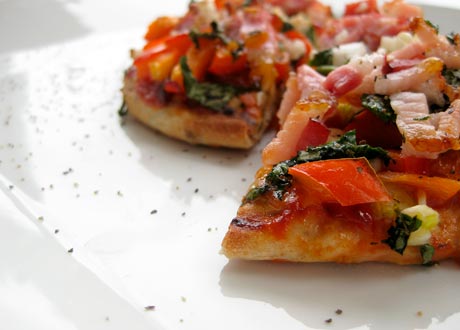 When you only have one child everything is a learning curve. So, when I thought it was time for my 21 month old daughter to learn to cook, I really thought she was ready. Pizzas seemed like a good idea. Fun and interactive, I thought she could get her hands in there and experiment.
Well, it didn't quite go as planned. Maybe she isn't old enough yet, or maybe I just left it too late as she was already really hungry. Instead of helping her dad, she sat on the counter taking bites from the pizza base and stuffing her mouth with sliced cut meat (bless her).
In the end, I had to 'help' and make the pizza for all of us. I took a breakfast pitta, spread ketchup and chilli sauce all over it, added spring onions, red peppers, fresh basil and sliced bacon. Lastly I grilled it for 10 minutes. At this point, my daughter took interest again in the pizza and ate it all up.
I will definitely try to cook with her again, I love the idea of cooking side by side, teaching her to be creative and to have fun cooking together.