I so want that….from….
Posted by Ben Garfinkel on Wednesday, March 19th, 2008
Tags for this Article: best-food, dishola, food-review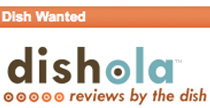 I frequently crave a certain kind of food from a specific place. Fish and chips from Pajo's in Steveston, tacos from Dona Cata, rendang beef from Pondak, etc. Sure, there are times when I want to go to a particular restaurant for other reasons, but when it comes right down to it, and I think about it, usually it's about the food. So it comes down to finding out who makes the best (insert food item or dish here) in town, or within a reasonable driving distance. Defining 'reasonable' is in direct relationship to the deliciousness of the said food item of course.
Today on Springwise I discovered a couple of interesting food-related items. One is Dishola, a site that delivers reviews by the dish. Smart for when you're seeking out flavours. Thankfully it is sortable by locale, but sadly there is only one entry for Vancouver, for tiramisu at Subeez. Not to discount that they may have a decent tiramisu, I kind of doubt it. And the review sounded kind of half-hearted about it at best. In fact, the best tiramisu I've had in some time was just recently at Dario's La Piazza Restaurante adjacent to the Italian Cultural Centre here in Vancouver. I'll be updating that on Dishola shortly!
I've no doubt that this site, and the idea, is a good one, especially in cities such as New York or LA where the population well outnumbers food establishments. Though this is the first site I've seen that's featuring food in this way, many of the local food experiences we write about here on In The Kitchen are based on being impressed by a single dish, or discovering a great place for what you might be craving.