Deacon's Corner: Not Your Father's Greasy Spoon
Posted by Mark Busse on Wednesday, March 25th, 2009
Tags for this Article: biscuits, Breakfast, deacon's corner, diner, old fashioned, restaurant, review, sausage, vancouver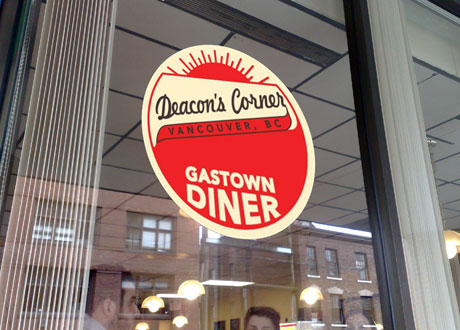 Don't get me wrong, I love fancy food and am willing to pay good money for a classy dining experience. But sometimes I just want good old fashioned diner-style fry up. Enter Deacon's Corner in Gastown, right across the street from Alibi Room at Main & Alexander.
My hip and stylish barber Dustin at The Belmont Barber Shop told me about a new place called Deacon's Corner he was loving as I sat in his chair recently. I was vaguely aware of a new diner in town named after the famed greasy spoon in Winnipeg, and the way he described it was irresistible. I had to try it out. And no, this has nothing to do with my Manitoba roots…or does it?
The sign on the door and menu may say "diner", and the interior looks much like a standard cafeteria, albeit a clean and retro-modern iteration, this is not your father's greasy spoon. The menu offers classics like meatloaf, Clubhouse and Reuben sandwiches, homemade hamburgers, fried chicken, macaroni and cheese—even stuff for vegetarians (whatever). The place felt rather like a mix of a classic truck stop diner from road trips of my youth, food my mother would make, with a good dose of rockabilly attitude. No wonder Dustin loves this place.
The coffee—always a litmus for me—is dark, rich, and complex. Heck, they sell the locally roasted beans on site. And the all day breakfast menu is terrific, with all the regulars, plus homemade biscuits, sausages, gravy, and eggs. But be warned. I ordered this dish, expressing my desire for medium poached eggs, and didn't realize that meant I was getting the "Big" breakfast version. Big is right. With three eggs, three sausages, three biscuits, hashbrowns, and toast, there was no finishing it. A day later and I'm still full. I'm not kidding.
This is just the kind of place Vancouver needs more of. Reasonably priced, honest fare made fresh by an obviously passionate cook and served by friendly staff in a bright, sunny diner. Check out City Food's write up for more back story and an example of their menu. My only complaint would be that when I tried to eat there on the weekend I was disappointed to learn they don't open until 10am on weekends. A breakfast diner that doesn't open until mid morning? Huh?
Deacon's Corner is located in Gastown at 101 Main Street (corner of Alexander St.) Vancouver, BC; 604.684.1555, www.deaconscorner.ca