South China Seas Opens in East Vancouver
Posted by Mark Busse on Sunday, March 23rd, 2008
Tags for this Article: east, food store, South China Seas, special, vancouver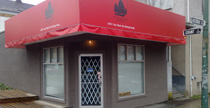 I may just be the luckiest foodie in Vancouver—er, East Vancouver anyway.
For years I've been a fan of South China Seas Trading Company on Granville Island. It's truly an awesome source for all things Chinese, Japanese, South East Asian, Indian, Caribbean and Mexican. The only problem though, for me, was its location. Don't get me wrong, Granville Island can be great—if you're a tourist or don't mind fighting traffic to drive half way across town, driving in circles looking for a parking spot only to elbow your way through annoying crowds like a salmon during spawning season. Not really good times.
But no longer I'm happy to announce. Now if that recipe you're keen to try calls for rare spices, ethnic sauces, fresh or dried herbs or chiles not often available, you're in luck my East Van friend. Looking for exotic fruits, vegetables, curries, chutney or pickles? Look no further. Even if you're after fragrant teas, fresh Asian pastas, seaweeds & sushi ingredients, dim sum & dumplings—you're all sorted. Add to this impressive array of offerings a terrific selection of cookbooks and food shopping in the Commercial Drive neighbourhood just got a whole lot more interesting and convenient.
Located in the newly rennovated former site of Victoria Drive Café at the corner of Grant Street and Victoria Drive, South China Seas Trading Company is open for business. I've already spent too much money in there and look forward to popping in on a regular basis—without the crowds or hassle.
Welcome to the neighbourhood. Welcome indeed.