Foodists Launches at South China Seas
Posted by Ben Garfinkel on Friday, January 30th, 2009
Tags for this Article: Foodists, Launch event, South China Seas, specialty, vancouver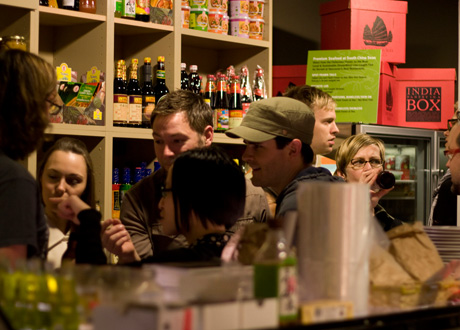 Something we've always wished we did more of was have actual Foodists events. Of course, we're making that happen now, and what better way to get that ball rolling than to celebrate the recent launch of the new Foodists identity and site.
Actually, the evening served a number of purposes. The first was to get as many of the Foodist contributors in one room together as we could (something that hadn't happened yet). The next was to talk about the new site and what we intend to do with it, and how we will all get there. The third was to break in the relatively new South China Seas location.
By all accounts the evening was a terrific one, and this has manifested on Foodists with a steady and fresh flow of postings. As mentioned, this special and intimate evening was also a first for South China Seas owners Don Dickson and Joyce Chang-Dickson who haven't yet had a private function at their new location at 1904 Grant Street and have terrific plans to start cooking classes there soon. For our event they offered up cooking demonstrations and a selection of treats synonymous with New Year's and other festive occasions from around the world including jiaozi with Chinese truffles, tamales in banana leaves, Moroccan briouat (pastry) with chicken egg and preserved lemon and traditional chili-infused Mexican hot chocolate.
For those not in the know about this fabulous place, South China Seas has been a fixture at Granville Island Market for years and are purveyors of the foods of China, Japan, South East Asia, India, the Middle East, Africa, the Caribbean and Latin America–plus hard-to-find specialty items from around the world. While I love the Granville Island Market, this new location is much more convenient for us east-siders, has a larger selection, decent access and parking and more elbow room.
To me, Don, Joyce and their staff are a real find in this day and age. Not only do they carry almost everything you could ever need when preparing an ethnic recipe (note: and non-ethnic too–their spices are some of the freshest and best you will find anywhere), but their depth of knowledge of the products they sell and stand behind is incredible.
Just think, there's really no need to stand in front of a wall of peanut oil bottles at T&T supermarket, or anywhere else for that matter, when the expert staff at South China Seas have already sampled and chosen the best of the bunch. Easy!
As the evening was winding down I asked Don to repeat what he told us about soy sauces since I had recently run out of Chinese light soy. As he went through the various options with me, he also shared that one soy in particular is saltier and a fantastic substitute for fish sauce oft-used by vegetarians. Not sure where else you'd learn that, but a remarkable resource.
Here are some other great things we learned that night:
Many of the products they carry they do so because they are more genuine, flavourful and without unnecessary additives. Do you think they add food dye to chili oil? Most do, but the one I bought that night was dye free. Same goes for the Mexican mole I usually buy. While Don admitted that the brand that has yellow dye in it is actually more flavourful (assuming for reasons other than the dye ingredients), the alternative brand he carried was dye-free. Very confidence inspiring-I got he distinct impression he's used every one of the products on those well-stocked shelves.
There are actually two types of lemongrass: Californian and Thai. Californian is available pretty much year-round, is bigger and less flavourful. Thai is seasonal, more expensive and smaller.
Most black truffles, unless outrageously expensive, are Chinese truffles, no matter how they're labeled. That French paté is probably not flecked with real French black truffles.  The truffle fraud may be as rampant as the extra-virgin olive oil fraud.
Harissa chili paste is very tasty! Especially when paired with the Morrocan briout.
We agreed that their recipe for jiaozi with Chinese black truffles and ginger was the best we had ever tried, and their cooking method was backwards from the way many of us have always done it: Now we fry first and steam second.
Not all peanut oil is created equal. The stuff at South China Seas is exceptionally peanuty. We're switching and never going back to Planters.
Not all cinnamon is the same either. Get the real deal which you are unlikely to ever find at your grocery store.
There's something magical about the tiny limes they sell. The ubiquitous large ones you see everywhere are barely representative of these amazing little fruits.
What a great selection of cookbooks they have at South China Seas. You can, and should buy them, but so often I've been to the store and the staff have referenced them to answer a question, or two or three.
And finally, an obsession with food is best celebrated with likeminded people.
Thanks Don and Joyce.
South China Seas is located in the market on Granville Island and not too far from Commercial and East 1st in Vancouver at 1904 Grant Street (corner of Grant and Victoria).