Discoveries and Destruction in East Van
Posted by Mark Busse on Monday, January 25th, 2010
Tags for this Article: accident, Divino, East Van, South China Seas, Victoria Drive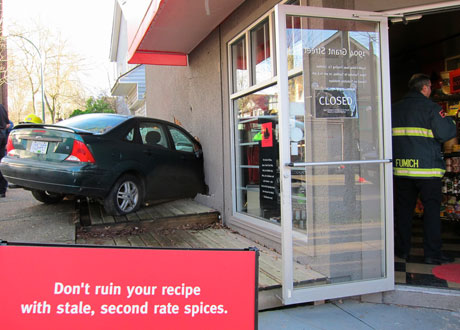 Last week was filled with food experiences for me. Some good, some rather horrible. I will briefly describe two for you.
Discovery
A few weeks ago, food writer Alexandra Gill wrote in a Globe And Mail article that Divino WineBar was "her favourite restaurant of 2009". OK, what? Divino? The place on Commercial Drive next to the Italian Gelatria Dolce Amore? Huh?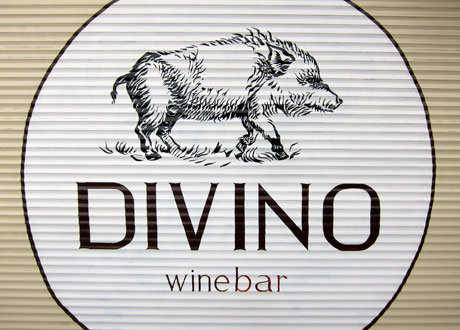 Divino WineBar opened last year after lengthy renovations that saw the gelato shop move from its prime corner location, giving way for what looked to be another wine bar with charcuterie and cheese offerings similar to Salt or Au Petit Chavignol. At first I thought it was a welcome addition to the neighbourhood in which I live and I had high hopes, but they soon faded.
Saying that first couple visit "did not impress" is being kind. Nothing seemed organized, the server was a vegetarian and knew nothing about the meats she was serving us, and the wine list was generic, uninspired and over-priced. A second visit was more of the same, except now there were LCD televisions blazing away, attracting an unsavory and frankly unwelcome downtown & Yaletown crowd. One more failed visit led me to abandon all hope. In retrospect, I'm surprised I, or any of my Foodists compatriots, didn't write up a scathing review of the place.
But then this glowing article by Ms. Gill, whose opinions I have found hit and miss, but it inspired a few of us to go back and let me tell you: she speaks the truth! David Fert is a master sommelier and has a unique talent for pairing wines, and chef Jefferson Alvarez is nothing less than a genius. We tried as many dishes as we could, seeking the flaws or exaggerations in Ms. Gill's account or her experiences—couldn't do it. The room is now cozy and genuine, the food is playful and passionately prepared (how does he do that in that tiny kitchen?) and the wine is superb. You could really lose control in a place like this. I'm a little worried that it is so close to my apartment…
If Foodists had a rating scale, we'd be awarding Divino Wine Bar five floating Buddhas. Go there. Now. You won't be disappointed.
Destruction
The weekend was shaping up well and Andrea and I happened to be standing by our living room window when we heard the terrible sound of screeching as an auto accident unfolded before us. A car, headed northbound on Victoria Drive, was struck from the side and spun around in front of us, only then to take off at full throttle southbound. We watched in horror as the terrified driver and passenger ran up the curb, over a sign, missed a fire hydrant by inches and ran straight through the wall of South China Seas at the corner of Grant and Victoria.
South China Seas is one of the Foodists favourite food importers in Vancouver, and the Victoria location was in fact where the collective officially launched back in 2008, so you perhaps you can picture me, standing with my hands on the glass yelling to the driver below "No, no, no! Brake! Hit the brake! Stop! Stop! Don't hit my store!!" to no avail.
I was the first one on the scene, calling 911 as I ran, and found the driver of the car—which was still on, transmission engaged and wheels spinning—pulling her friend from the wreckage, followed by what looked like her groceries! After getting her and her passenger, who seemed rather injured, to lie down and showing some people how to administer C-spine immobilization, I ran into the store.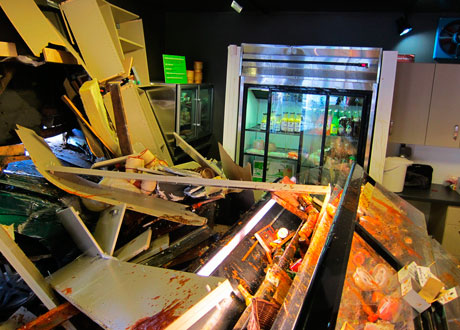 I'll never forget what I found inside. The owners, Don and Joyce, weren't there at the time of the accident, and their employee Mayumi, was standing in shock moaning and crying. The store looked like it had been destroyed by a bomb blast. The area where she had been standing was gone—literally buried under heavy rubble. How she escaped with only a bruise on her wrist I'll never fully comprehend, but she explained that when she heard the screeching of tires, she turned around and began to walk the length of the deli cabinet when the wall beside her burst inward, sending dozens of bottles of sauces, shelving, and shards of glass flying. Apparently she dove through the passage beneath the counter beside the cash register and out of harms way. Amazing.
Thankfully no one was badly injured during this terrible accident, but it comes at a bad time for South China Seas. Owner Don Dickson says "This is a huge blow and it is difficult at this point to even take it in." They are now faced with rebuilding much of the store, which may take months and their kitchen, in which they host cooking classes and prepare many of their products, was damaged.
To further complicate things, Dickson explained that since Granville Island (location of their other location) was being turned into an Olympics venue, they were counting on the East Van store as an option for Public Market customers who couldn't access the Island. "We were even contemplating a delivery service so that orders from Oyama, Tenderland, Armando's, The Salmon Shop and so on could be picked up at Victoria Drive." says Dickson.
What Can We Do About It?
Plenty. Small businesses like Divino Wine Bar and South China Seas are part of the fabric of East Van—its what makes our neighbourhoods great. Let's get out there and support these people. Next time you are considering a nice meal out, call David at Divino and tell him the Foodists sent you. And when shopping for your next meal at home, muscle your way through the Olympics crowds and show Don and Joyce your loyalty at their Granville Island Store until they can rebuild and re-open the Victoria location. Send them an email and send them your support and promise to spread the word about the greatest little import food store in Vancouver. Let's bury them with our business and turn this accident into a tremendous PR moment for them.
Photos from the accident can be viewed on Flickr and a video tour of the wreckage can be seen on YouTube.