Ribs on the Cobb
Posted by Ben Garfinkel on Friday, April 25th, 2008
Tags for this Article: BBQ, Cobb, hardwood_charcoal, meat, pink_smoke, slow_cooking_ribs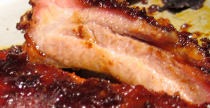 Smell that? The earth coming to life, trees, flowers, smoke-fueled barbequing?
I started the 2008 bbq season picking up where I left off last year experimenting with the slow cooking ribs on the Cobb. I almost got it right this weekend. You see, the secret to slow cooked ribs (or any meat really) is consistent smoke, consistent low heat and time.
I managed to fit two whole racks on the seemingly tiny Cobb by cutting them in half and balancing them upright on each other. I know, I know, I'll never win any bbq championships on their appearance, but that's not the point of this. So, I started with about 5-6 pieces of hardwood charcoal, onto which I placed a pile of soaked Alder and Hickory wood chips and a small tin foil pouch of dry cherry chips. Got a good amount of smoke going and fairly even temperature. Perhaps a tad high at 275%, I figured it might be hard to keep it consistent anyway so starting out a little high would be fine.
Now, with a total cooking time of 6 hours or so, I have to replenish the coals part way through the cooking process. I took the ribs out and put them into the gas grill to keep the temp and cooking process going while adding more coals, but, the problem was, once the new coals lit, the temp shot up into the 325 range which dried out (and blackened the exterior of the ribs). I had no problem keeping the wood smoking throughout the process, just even low temperature for 5-6 hours. So for next time, I'm thinking maybe at hour 2 and 4 dropping only one or two briquettes onto the lit ones for a more steady, low temp, rather than four all at once that I added and lit at about hour three.
Alternatively, maybe 3 hours of smoke and charcoal is enough, and I can then transfer the ribs to the oven or gas grill for the balance. Despite the slightly charred and tough spots, the flavour was amazing and I definitely achieved deep and desirable pink smoke rings!
The other thing I neglected to do was have a spray bottle of apple juice/bourbon mix (or what have you) to 'baste' the ribs with over the cooking time. I'm sure this would have helped from drying them out too much too.
In consulting with Brian Misko of House of Q BBQ, the folks I took a competition bbq class from last year, he provided some good direction which confirms my thinking:
The basting will definitely help, and adding coal mid-cook will help with the Cobb.  The trick we do with the foil is not that foreign…  it's called the 3-2-1 method.  Three hours directly with smoke, two hours in foil (basting/braising) and finish with one hour direct with glaze.  Again, experimentation leads to your best results.
As a result, next time around with ribs on the Cobb, I'll smoke for the first three hours then switch to two hours basting/braising in foil on the gas bbq or oven, and then finish with the final hour on the gas grill. Maybe not exactly the same as I could achieve using a Weber Smokey Mountain, but these were damn fine ribs.
BTW, I'm still personalizing the dry rub. Started with the basic competition rub recipe in Ron Shewchuk's Barbeque Secrets. Added some ground espresso, cumin powder and chipotle chili powder. Can't beat House of Q's own Apple Butter Bbq sauce to finish it off. Yum!