I want (have to have) this (hint hint)
Posted by Ben Garfinkel on Monday, July 28th, 2008
Tags for this Article: Anthony-Bourdain, Au Pied de Cochon, Books, cookbook, Martin Picard, The Album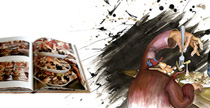 Though maybe technically a cookbook, it's not really. The Album celebrates the 5th anniversary of Au Pied de Cochon and chronicles life at the restaurant over a one year period. It features numerous stories, hundreds of photos and dozens of illustrations (that sure look Steadman-esque) and cartoons. Oh, and a foreword by Anthony Bourdain. I found this quote about the book:
Upon reading the innocuous-sounding Beans and Meatballs recipe that starts "using a saw, cut the top off the piglet skulls to remove the brains" and ends "decorate the dish with the fried ears," I knew this book was truly special.
My wife will hate it, and the fact it's going to take up another slot in her bookshelf.