Janice's Ultimate Ribs
Posted by Mark Busse on Thursday, September 11th, 2008
Tags for this Article: BBQ, janice, meat, recipe, ribs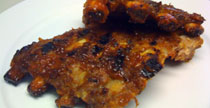 As summer 2008 fades, we've not slowed in our pursuit of the perfect BBQ. Of course Ben defends the purists' approach of dry rub and slow smoking, my friend—and fellow foodie—Janice offered a recipe with a slightly Asian twist. Inspired by her Chinese mother, this recipe is easy, fast and delicious.
Ingredients
2-3 slabs of ribs
3-4 Star Anise
4-5 cloves
1 teaspoon black peppercorns
1 thick slice of ginger
1 litre Chicken Stock
1 can of Coke
Water to just cover ribs
(note: if you don't have star anise, Chinese 5 spice works well too. For my version, I used a packet of Vietnamese Pho soup spices for this step, which includes all the above spices and a few more, such as orange peel and cinnamon, and it was terrific)
BBQ Sauce
Olive oil
1/2 onion
4 smashed garlic cloves
Salt and freshly ground black pepper
2-3 cups ketchup
1 cup peach preserves
2 tablespoons brown sugar or maple syrup
2 tablespoons worcestshire sauce
1 teaspoon ground cumin
2-3 chopped bacon
(note: add a few tablespoons of apple cider vinegar if you want a bit more zing if you find the sauce a bit sweet)
Preheat the oven to 375 degrees F or get your BBQ up to temperature.
Parboil the ribs in a BIG pot for about 10 minutes. Skim, drain and rinse off ribs.
Rinse the pot, combine and boil chicken stock, coke, ginger, star anise, peppercorns, cloves. Place the parboiled ribs into the pot. Fill the pot with water to cover the ribs. Boil at medium high heat for 1 hour.
Meanwhile, make the sauce. Heat a 2-count of oil in a large saucepan over medium heat. Add the bacon and cook slowly for 3 to 4 minutes to render the bacon fat and give the sauce a nice smoky taste. Add the onion and garlic and cook slowly, without coloring, for 5 minutes. Add all of the rest of the sauce ingredients, give the sauce a stir, and turn the heat down to low. Cook slowly for 20 minutes to meld the flavors.
Put the ribs on a baking sheet, cover the ribs with the sauce and let them continue cooking, basting twice more, for 45 more minutes. Alternatively, BBQ the ribs for 20 minutes per side on medium heat and crank it for the last bit to get some caramelization.