Brew Ha Ha 2.0
Posted by Ben Garfinkel on Thursday, September 18th, 2008
Tags for this Article: beer, Brew 2.0, drink, Molson, Rickard's Red, vancouver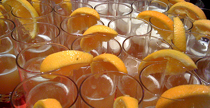 Back in my ad agency days I had the chance to work on both Labatt and Molson brands. Back then I wasn't much of a mainstream beer guy, preferring instead many of the microbrews and specialty beers we have available to us. Plus, I wasn't drinking the kind of volumes that would necessitate re-thinking paying a slight premium for the stuff.
That said, inevitably once the free beer started flowing one would often hear, "Hey, this isn't bad!" just after the sound of can tops popping. I believe it was both a biased opinion and that many had never bothered to really drink these beers before. Or just that free beer equals good drinkable beer.
Hence, when we received the invitation to join a handful of other food bloggers Tuesday night at the Molson Vancouver brewery for Brew 2.0, I was interested. First, because I've driven by that brewery for years and never been inside, even when I worked for them, and secondly, because they were offering up food pairings with Molson products by Blair Rasmussen, Executive Chef at the Pan Pacific. Intriguing.
Here's a look at the menu and pairings:
Scallop and Papaya Ceviche Crostini paired with Rickard's White; Grilled Vegetable and Goat Cheese Bruschetta paired with Coor's Light; Smoked Wild Salmon on Wild Rice and Beer Blini, Fennel Salad paired with Molson Canadian; Prawn Quesadillas, Fresh Guacamole, Salsa Fresca paired with Corona; Chorizo Empanadas paired with Old Style Pilsner; Rickard's Honey Brown Ale- Braised Bison Mini Sandwiches paired with Rickard's Red; Cheeseboard with Aged Cheddars, Brie and Gorgonzola Walnut Baguette, Flat Bread and Crackers Blair's Addictive Beer Nuts paired with Heineken.
On the one hand, you have to admire Molson for trying to take their beers to the next level, or at least presenting them that way, but pairing Coors Light with anything other than a bag of Doritos (ignore the obvious disconnect in drinking light beer with potato chips) is a bit of a stretch. Corona and quesadillas worked a hell of a lot better.
And while I remain a non-Molson customer, the Rickards products do seem to have greater appeal for me. In the absence of other micro-brewed products, they'll do in a pinch. The Rickard's White was good in my opinion, and the orange garnish on the rim was an interesting touch (never thought to present it that way even if some of the white beers definitely have essences of orange and floral notes that would go quite well with it. I would have preferred a light curry pairing, but maybe that would have been too obvious. Not sure what it is about braised meat, bison in this case, that causes a stampede, but people were digging it. It was also the most successful pairing of the night, going down nicely with the Rickard's Red.
Ultimately, we were there to celebrate the 50th anniversary of the Vancouver brewery along with brewmasters Kerry Scarsbrook & Gord Rickards, creator of Rickard's Red and Molson Brewery founder John Molson's great-great-great-great-grandson, Geoff Molson (who was working the taps for most of the night). Gord lead our tour of the place.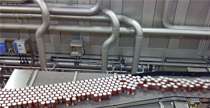 Two words: stainless steel. What impressed besides the sheer volume of beer that can be created was the mass of intertwining stainless conduits running throughout the complex. That and the automation. It was after hours for the brewery so perhaps they were running a lighter shift, but it seems like they don't really need that many people to make beer these days. Computers and automation are just the thing when you are a major brand and consistency in taste and quality is key. As impressive as the volume of beer they can crank out is, Gord pointed out that this is a small brewery by any standard. I've been to Carlsberg in Denmark, Heineken in Amsterdaam and Guiness in Dublin so I can attest, but it still seems big when generally we relate to beer one six pack at a time.
When we returned to the tiny bar atop the brewery (amazing view by the way) we were treated to Rickard's Gold, a beer brewed just for us for this one night supposedly. Geoff Molson handed it to me. I sipped. First reaction was that it tasted like a Rickard's product. It was also fresh and clean with the tiniest bit of bitter, and a pleasant, almost neutral aftertaste. Is this good? I dunno. Sure, it was good. Not sure I'd buy it, but I'd drink it.
I forgot to say it to them that night, so I will here, Happy Anniversary Molson.
UPDATE: A couple days after the event, two cases of a selection of Rickard's beers arrived at our stuio with a thank you note for come. Very classy move Molson—thanks!