Pumpkin Pie, the "Old Fashioned" way
Posted by Mark Busse on Sunday, October 12th, 2008
Tags for this Article: dessert, pie, pumpkin, pumpkin pie, recipe, thanksgiving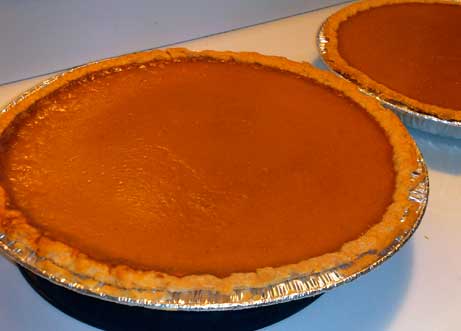 It's Thanksgiving time again in Canada, and this year I decided to make my own pumpkin pie—from scratch. No canned pumpkin this year! Making a purée from roasted pumpkin is a bit of work, but I hoped it would be worth it. I found numerous recipes in my cookbooks and online, but settled on this version called "Suzanne's Old Fashioned Pumpkin Pie" on Simply Recipes which seemed to be a simple classic.
My parents are sort of pumpkin pie experts and I served my pies at the Busse family Thanksgiving dinner, so the pressure was on. My sister out did herself, roasting a delicious turkey with all the fixins—including some really awesome gravy. After dinner I served my pie with some freshly whipped cream and these pumpkin pie connoisseurs tucked in, seeming to enjoy my home made version.
When prodded for a rating as they polished off desert, my father shrugged with a casual "8 out of 10," saying, "I prefer a denser, more spicy custard." My mother, on the other hand, thought it deserved a higher rating of 9/10, saying she enjoyed the lighter custard. Everyone else, including my niece who never eats pumpkin—or anything resembling a vegetable for that matter—loved it. The pie was a success, or was it?
This morning I awoke feeling deflated. 8 out of 10? What's that, a B at best? Not good enough. I knew I could do better, so back to the books I went. After some considering various approaches, I decided to attempt the recipe from the Nov 2008 issue of Cooks Illustrated recipe Revisiting Pumpkin Pie (recipe below).
I'd love to post the recipe here for you, but CI doesn't allow their recipes to be viewed online without a web subscriptions—even by magazine subscribers like me—so I'll just give you some general hints. If you're interested, let me know and I can lend you my copy of the magazine.
Cook's Illustrated's Francisco J. Roberts, who apparently experimented on hundreds of pies before settling on this recipe, claimed the secret to an intense pumpkin flavour was the addition of candied yams. Yup, sweet potatoes in pumpkin pie. Okay… He also suggested freshly grated ginger instead of powder and maple syrup with white sugar instead of brown sugar. His recipe also had a bit more egg yolks and salt plus a little vanilla extract, and used equal parts cream and whole milk, unlike the Simply Recipes version which called for only cream. But the CI version had no lemon rind, no cardamon and no clove. Uh-oh, will it spicy enough for my dad?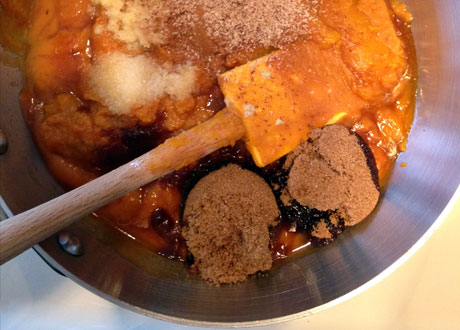 One interesting cooking technique in this recipe was simmering the pumpkin and yams on the stove top for 15 minutes to reduce and intensify the flavours and allow the spices to bloom. Makes sense to me. When mixed with the custard ingredients and strained, it leaves a silky smooth filling that is already warm. So, when poured into warm, pre-cooked pie shells, they can be baked at lower temperatures for less time, reducing the likelihood of curdling or grainy texture. This leaves a denser, smoother custard—which is what my dad was left wanting.
Before I attacked my pies I did some online research and found a discussion forum on the Cook's Illustrated website where some users expressed some concerns about the recipe. However, I didn't have any difficulties with the instructions and my second batch of pies look and smell great. Tonight will be the real test though as we're making dinner for some friends with a newborn baby (and have neither the time nor energy to cook these days). Tomorrow I'll whip over to my parents house and find out if I can squeeze another rating point out of them. Wish me luck.
Silky Smooth Pumpkin Pie
Adapted from Cook's Illustrated, November & December 2008
A half-recipe of your favorite pie crust, chilled (I like this all butter recipe from SmittenKitchen.com, although I prefer to use half vodka)
Wet stuff
1 cup heavy cream
1 cup whole milk (I used 2 cups of half and half instead of one cup each of cream and milk)
3 large eggs plus 2 large egg yolks
1 teaspoon vanilla extract
1/4 cup maple syrup
Sorta dry stuff
1 (15-ounce) can pumpkin puree
1 cup drained candied yams from 15-ounce can (regular canned yams can be substituted)
3/4 cup brown sugar
2 teaspoons grated fresh ginger (I used 1 1/2 teaspoons of ground because I'm not a huge fan of fresh ginger)
1/2 teaspoon ground cinnamon
1/4 teaspoon ground nutmeg
1 teaspoon table salt
Preheat oven to 400 degrees F.
Roll out dough on generously floured (up to 1/4 cup) work surface to make 12-inch circle about 1/8-inch thick. Roll dough loosely around rolling pin and unroll into pie plate, leaving at least 1-inch overhang all around pie plate.
Working around circumference, ease dough into plate by gently lifting edge of dough with one hand while pressing into plate bottom with other hand. Refrigerate 15 minutes. Trim overhang to 1/2 inch beyond lip of pie plate. Fold overhang under itself; edge should be flush with edge of pie plate. Using thumb and forefinger, flute edge of dough. Refrigerate dough-lined plate until firm, about 15 minutes.
Remove pan from refrigerator, line crust with foil and fill with pie weights or pennies. Bake on rimmed baking sheet 15 minutes. Remove foil and weights, rotate plate. Bake 5 to 10 more minutes until crust is golden brown and crisp. Remove plate and baking sheet from oven.
Make the filling: While pie shell is baking, whisk the wet stuff (cream, milk, eggs, yolks, vanilla & maple syrup) together in medium bowl. In a large heavy-bottomed saucepan, combine  the sorta dry stuff (pumpkin puree, yams, sugar, ginger, cinnamon, nutmeg and salt) and bring to sputtering simmer over medium heat, 5 to 7 minutes. Continue to simmer pumpkin mixture, stirring constantly and mashing yams against sides of pot, until thick and shiny, 10 to 15 minutes.
Remove pan from heat. Whisk in cream mixture slowly, until fully incorporated. Strain mixture through fine-mesh strainer set over medium bowl, using back of ladle or spatula to press solids through strainer. Re-whisk mixture and transfer to warm pre-baked pie shell. Return pie plate with baking sheet to oven and bake pie for 10 minutes. Reduce heat to 300 degrees. Continue baking until edges are set (instant-read thermometer inserted in center registers 175 degrees), 20 to 35 minutes longer. Transfer pie to wire rack and cool to room temperature, 2 to 3 hours. (The pie finishes cooking with resident heat; to ensure the filling sets, cool it at room temperature and not in the refrigerator.)