Aurora Bistro Closed
Posted by Mark Busse on Saturday, November 29th, 2008
Tags for this Article: aurora, closed, main street, restaurant, vancouver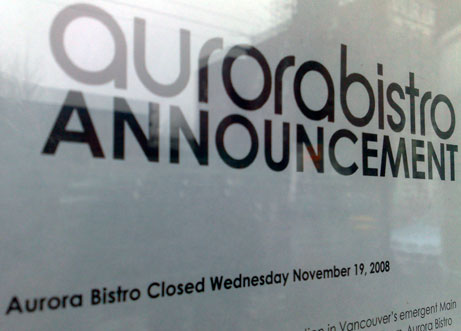 There's bad news, and then there's really bad news: After more than five years as the reigning champ of locally sourced, sustainable, gourmet cuisine along Main Street, Aurora Bistro has closed its doors. The sign on the window says it all:
After more than five years of operation in Vancouver's emergent Main Street neighbourhood, Aurora Bistro has closed its doors. Aurora Bistro opened in June 2003 to rave reviews and has remained a popular regional restaurant winning numerous awards.

Despite the restaurant's broad following and significant acclaim, it recently became evident that the business could no longer remain profitable and continue to operate.

To close the restaurant was a difficult decision to make, but after committing five years to Aurora as a hard-working chef and active restaurant owner, Jeff Van Geest is ready for a fresh start and welcomes more time to spend with his family.

"I want to thank my incredible staff for their hard work and dedication to Aurora. I also want to sincerely thank our suppliers, customers, our dear industry friends and the food and wine media for their amazing support over the years" says Van Geest.
This sucks.