Dinner of the Decade?
Posted by Steve Mynett on Tuesday, December 16th, 2008
Tags for this Article: celebrity, chef, dinner, event, french-food, Wine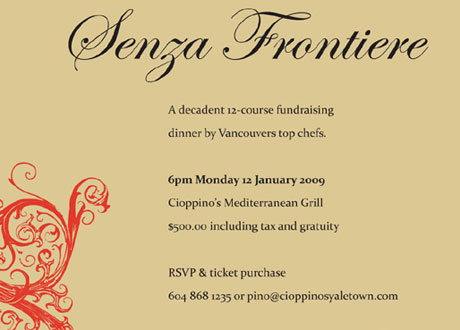 Any dinner billed as The Dinner of the Decade has got to have some weight behind it. Not only does this one have some weight but also some of the most recognized names in Vancouver. David Hawksworth, Hidekazu Tojo, Michael Jacob, Vikram Vij and many others have all contributed a course to the dinner.
Reception:
Daniel Boulud, Lumiere and DB Bistro Moderne: Alsatian Tarte Flambe' of caramelized onions, cheese and pancetta
Vikram Vij, Vij's and Rangoli: Coriander and Chilly marinated Mutton served with Chutney
Moet & Chandon Brut Imperial Nonvintage
~
Naturally Fermented Bread from Mary Mackay's Terra Breads
~
1st Course– Hidekazu Tojo, Tojo's
Tojo's Pacific dungeness crab cake, white fish and yam potato mousse, panko crust, yuzu, apple and mango sauce
Riesling Schlossberg 2006 Weinbach, Alsace
~
2nd Course – Michel Jacob, Le Crocodile
Terrine of duck foie gras served with ice wine gelee and toasted brioche
Chateau Lafaurie-Peyraguey 2003 Sauternes
~
3rd Course: Dino Renaerts, Diva at the Met
Chicken Consommé with Madeira, winter mushrooms & herb dumpling
Gewurztraminer Cuvee' Theo 2006 Weinbach, Alsace
~
4th Course: Robert Feenie, Cactus Club Café
Butternut Squash and Mascarpone ravioli, seared Qualicum bay scallops, truffle and lemon butter, shaved black truffles
Bourgogne Blanc 1999 Leroy, Burgundy
~
5th Course: Robert Clark, C Restaurant
Baked British Columbia Sablefish preserved summer tomatoes, "Frank and Steve's" spot prawn bisque
Riesling Jubilee 2004 Hugel, Alsace
~
6th Course: Scott Jaeger, The Peartree
Butter braised "Campbell's Pheasant" with confit eggplant and braised onion heart
Bourgogne Rouge 2001 Leroy, Burgundy
~
7th Course: Daniel Boulud, Lumiere and DB Bistro
Trilogy of Milk Fed Veal: Crispy Head and Cheeks with Sauce Gribiche, Stuffed Endive with Smoked Tongue, Sweetbread with Salsify and Chanterelles
Chateau Cheval Blanc 1996 Saint-Emilion Premier Grand Cru, Bordeaux
~
8th Course: David Hawksworth
Double Smoked Bacon Wrapped Squab, Tarte Fine of Wild Mushrooms and Golden Sultana Puree
Saint Joseph Les Granits Rouge Organic 2003 Chapoutier, Rhone
~
9th Course: Nico Schuermans
Sumac rubbed lamb sirloin, smoked eggplant caviar, Israeli cous- cous, Tabouleh
Chateau La Louviere 2000 Pessac-Leognan, Bordeaux
~
Desserts: Thomas Haas, Thomas Haas Fine Chocolates
Passion fruit meringue,crispy coconut wafers and exotic fruits
Course:Warm chocolate cake, caramel-fleur de sel macaron, almond ice cream
Muscat de Beaumes de Venise 2003 Perrin, Rhone
Sounds like a decidant dinner (and of course the fantastic wine parings can't hurt either) but this one is going to run you $500. More information available through the Chef's Table Society.