Biting into Books
Posted by Johnathon Vaughn on Wednesday, July 1st, 2009
Tags for this Article: Books, offal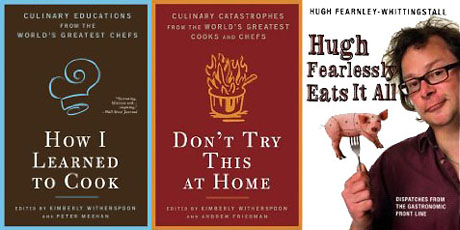 Affordable accessibility is a by-product of any economic downturn and as publishers reel from the effects, books are hitting the streets at VERY affordable prices! Recent finds from Bloomsbury publishing house include "How I learned To Cook" (Culinary Educations) and the companion book "Don't Try This At Home" (Culinary Disasters!) featuring articles from some of the world's greatest chefs such as Ferran Adria, Mario Batali, Mark Bittman, Raymond Blanc, Heston Blumenthal, Daniel Boulud, Anthony Bourdain, Danko, Morimoto, Ripert, Roux, Torres, Tsai and on and on… But the best thing is that each of these lovely morsels were only $3.40 each!
Another little treasure from the same publisher was "Hugh Fearlessly Eats It All" weighing in at a whopping $5.00! This book has great articles on enjoying less popular treats such as junk food, hash brownies, brains, kidneys, fugu, trotter, sweetbreads* and yes, even reindeer. An entertaining read with a great big bag of humour being emptied onto the pages.
For $11.80, you will have some very tasty tidbits to enjoy! (All books found and purchased from Book Warehouse in Vancouver.)
*for Foodists interested in a dinner featuring Offal on July 7th, please see the Foodists Forum!