Dogfish Head
Posted by Dave Shea on Monday, January 19th, 2009
Tags for this Article: alcohol, beer, brewery, dogfishhead, review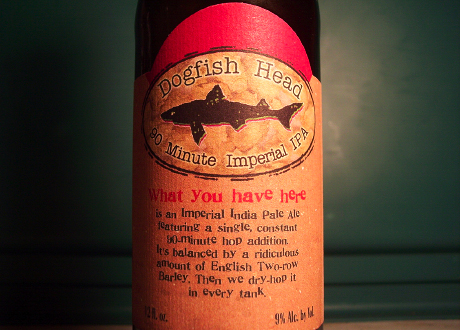 I really didn't want to tell anyone about this. I wanted it all for myself. But it looks like the supply lines are opening up a little, so I feel a bit safer in letting you all in on a delicious little secret.
There's a brewery in Delaware called Dogfish Head which is one of the fastest-growing microbreweries in the United States. They've managed to carve out a nice little niche for themselves by producing offbeat beers with high alcohol content and unexpected ingredients, and it's paying off in spades.
Prior to Christmas, I discovered that downtown Vancouver's Viti had just brought in a scant few Dogfish Head 4-packs, but I was told the one I grabbed at the time was the last I could expect for months due to Canadian distribution headaches. That didn't last long thankfully; a week ago I noticed they had re-stocked, and have it on good word that they're expecting even more in the coming weeks.
And thank the food gods they are, because one of their recent additions is without reservation one of the best beers I've ever had, and I've had a lot. Dogfish Head's 90 Minute Imperial IPA is an absurdly easy addition to my personal top 5 list, and likely even cracks the top three. It's a big, hoppy love-in of a beer with a 9% ABV to contend with, but it manages to mask that potency with strong orange peel and licorice flavours, accented by some beautifully delicate floral notes. It's not a beer for the timid, but the adventurous palate will find a lot to love about this IPA.
You can find Dogfish Head at the aforementioned Viti downtown, Brewery Creek on Main St., and according to their web site — though I haven't yet verified in person — Firefly on Cambie St. is also prone to carrying it.
(photo credit: drewesque on Flickr)